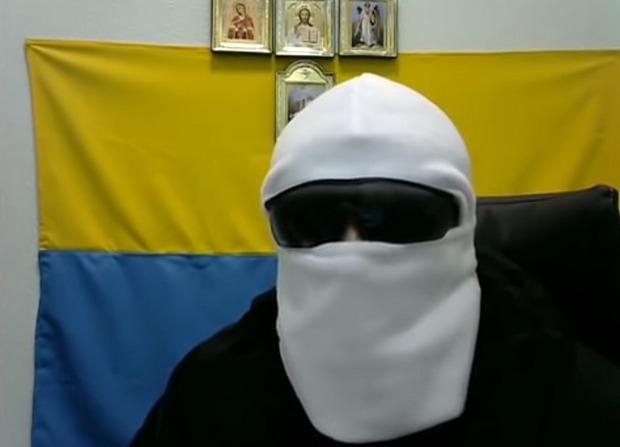 Screenshot
The SBU Security Service of Ukraine on February 18 detained Yevhen Morenets, who used an alias "White Balaclava" in his addresses to "supporters" via YouTube.
"Special services suspect him of working for the Russian FSB," SBU Deputy Head Viktor Kononenko said at a briefing.
He noted the Russian intelligence had been planning through the "White Balaclava" project (acting on Moscow's orders since the autumn of 2018) to organize protests in Ukraine immediately after the presidential election on March 31: the riots were set to lead to non-recognition of election results and a violent overthrow of government.
Moreover, provocations were planned regardless of the names of candidates who would make it to the second round.
Read alsoCyber provocation in Kyiv: Hacked computer projects swastika on shopping mall's stairs amid b-dance fest
Operatives conducted searches at the office premises and places of residence of three active members of the group. According to the SBU, they were in touch with the agent of Russian special services, Nikolai Dulsky, who is in Russia.
A Molotov cocktail was found which Morenets allegedly intended to use to set on fire one of the buildings in Kyiv.
Kononenko also said: "Morenets is an active supporter and ally of Nadiia Savchenko [Ukrainian MP, who is charged with a coup attempt that has been foiled] ... In the context of conversations, he said he had consciously left the group not to be associated with her."
To stimulate protests, Morenets made Internet videos on behalf of the "White Balaclava" project, where he made public calls for overthrowing the constitutional system and seizing power by force, the SBU says.