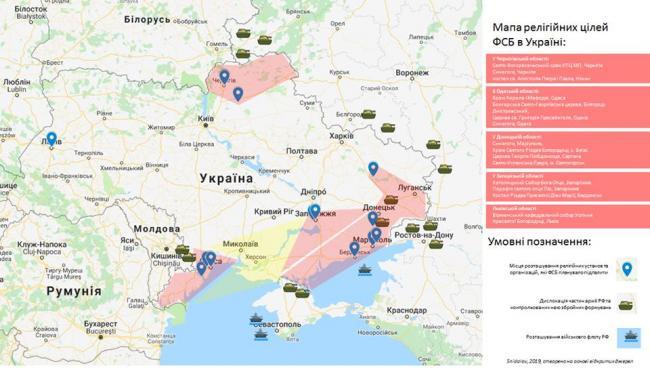 Oleksandr Snidalov / Facebook
A map showing churches across Ukraine targeted for arson attacks by the Russian FSB was published by a Ukrainian blogger Oleksandr Snidalov, who added to the map locations of Russian military and navy units in the relevant proximity to those sites.
Russian forces' potential operational deployment zones are marked in red, Information Resistance OSINT group wrote.
"Just look at that! Isn't it surprising to see no targets of potential arson attacks in cities like Kharkiv or Dnipro, but at the same time to spot them in the towns of Nizhyn, Buhas and Sartana? Nizhyn is located a bit to south of the M02 international highway and right at the railway junction connecting Kyiv with Russia which could be used to deploy forces if necessary.
Read alsoKremlin's plan to sow chaos in Ukraine
Buhas is located right on the H20 highway and very close to the only railway linking the strategic port city of Mariupol and the rest of Ukraine.
Sartana is a suburb of Mariupol protected by the Kalmius River. It is a convenient bridgehead to seize Mariupol, according to Snidalov.
In Berdyansk, the Ukrainian Navy is creating a new base for its Azov Fleet.
Bilhorod-Dnistrovsky is a gateway to Romania, the NATO Ally. It also implies control of the Dniester River delta.
Sviatohorsk is needed not just for a symbolic return to Slavyansk, but also to establish control over the Yuzivsky shale gas field.
Read alsoUkraine security chief: Attacks on pro-Russian church's temples coordinated by FSB
The choice of Odesa and Mariupol does not need an additional explanation.
Zaporizhia can be considered as a maximum task.
The author adds that Lviv would also be important for Russian propaganda to show attacks on places of worship to contribute to creating for international audiences a picture of "Ukrainian Nazis" on the loose.
Snidalov adds that to this end, the targets of attacks are not only Russian Orthodox Church's temples but also Catholic temples, Armenian, Bulgarian churches, and also synagogues – only to make sure that international community doesn't blame Russia for incursion and claim that "Nazis see no difference and attack everyone."
"If we look into the location of seven of the 11 targets, we'll see that they were not chosen by chance. This was a military-driven choice for sure. Mariupol, Berdyansk, Odesa, Bilhorod-Dnistrovsky, Sartana, Buhas, Chernihiv – that is, all of them, except Lviv and Zaporizhia, are located no more than 50 km from the Russian or Transnistrian border. This means that a [Russian] mechanized grouping will need no more than an hour to be deployed there. Of course, acts of arson at churches, synagogues and Catholic temples does not mean Russia will attack automatically; however, the location of targets very accurately shows where exactly Russian special services seek to create zones of instability that could give grounds for military action," the blogger wrote.
As UNIAN reported earlier, Russian spies have been working to recruit Ukrainian nationals who would commit arson attacks on temples operated by Orthodox priests of what was until recently called the Moscow Patriarchate.
The Security Service of Ukraine (SBU) earlier prevented one of such attempts where Russian intelligence sought to have a Ukrainian citizen set on fire for a US$2,000 reward a temple of the Russian Orthodox Church in Ukraine, aiming to sow tensions and discord, provoking destabilization.