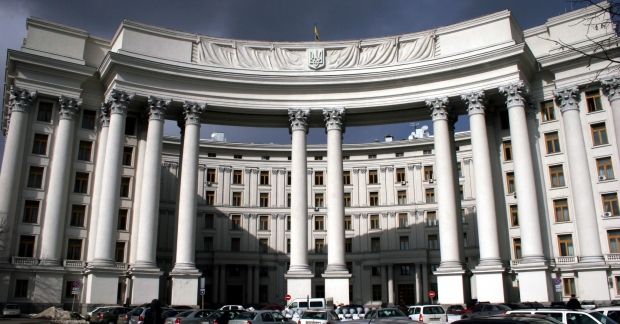 Photo from Ukrainian Ministry of Foreign Affairs
However, it is said that Ukraine welcomes the unanimous approval by the UN Security Council of the resolution 2202 (2015) concerning the situation in eastern Ukraine as of February 17, 2015.
"The Ukrainian Foreign Ministry calls on the international community to undertake all measures to ensure an immediate and complete ceasefire, and unconditional implementation by Russia and the militants it supports of the Minsk Protocol dated September 5, 2014, the Minsk Memorandum dated September 19, 2014 and the set of measures to implement the Minsk agreements signed on February 12, 2015," the ministry said in its statement.
"In the first resolution since the beginning of the Russian aggression against Ukraine, UN Security Council approved the set of measures for the implementation of Minsk agreements, and welcomed the Declaration of the leaders of Ukraine, Russia, France and Germany in support of [the measures] approved on February 12, 2015 in Minsk. UN Security Council urged all parties to fully implement the measures, including the ceasefire stipulated in it.
"One important element is that the resolution includes the commitments of the leaders of the 'Normandy Four,' including the president of the Russian Federation, to implement the Minsk agreements.... Taking into account the above said, it is the height of cynicism that such a draft resolution was submitted by the Russian Federation, which is grossly violating its obligations under [those same] Minsk agreements.
"Today, all the countries in the world are witnessing a brutal attack on the Minsk agreements. Taking advantage of Ukraine's observance of the ceasefire, the militants, supported by Russia, have been building up their offensive in Debaltseve. The Russian side is consistently blocking the execution by the OSCE Special Monitoring Mission of its mandate to monitor the situation. Russia continues to supply weapons on the territory of Ukraine."
The Ukrainian diplomats said they welcomed the "immediate reaction of the Security Council, which in its statement before the vote on the resolution expressed concerns about the continuing attacks on Debaltseve."