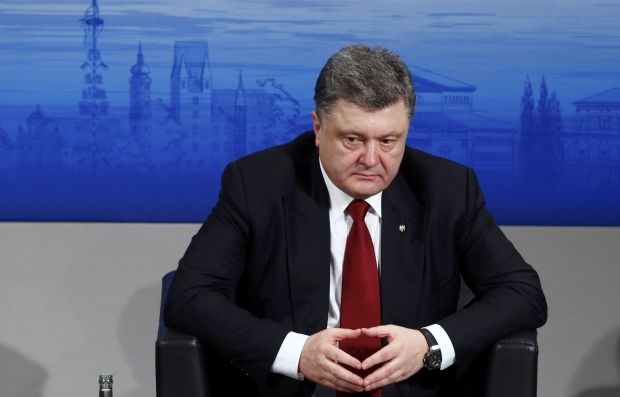 REUTERS
According to an UNIAN correspondent, the Ukrainian president said this at a joint press conference in Kyiv with EU Commissioner for European Neighbourhood and Enlargement Negotiations Johannes Hahn.
"I reached agreement with the EU leadership on the day I made the decision about the withdrawal of our troops from Debaltseve, regarding an extremely prompt response in case of further violations of the Minsk agreement in relation to the ceasefire and withdrawal of heavy weapons," Poroshenko said.
Poroshenko also said the situation in eastern Ukraine had worsened after the conclusion of Minsk agreements on February 12.
"The situation becomes even more acute, because after signing the Minsk agreements, the militants, supported by the Russian Federation and with the participation of regular Russian army, actually destroyed Debaltseve, wiping it off the face of the earth – today Debaltseve resembles a lunar landscape," Poroshenko said.
As UNIAN reported earlier, on February 12, Poroshenko, Russian President Vladimir Putin, German Chancellor Angela Merkel and French President François Hollande held talks in Minsk to resolve the conflict in the Donbas.
Following the talks, the parties approved a package of measures aimed at the implementation of the Minsk agreements of September. In addition to other provisions of the new agreements reached by the "Normandy Four" leaders (of Ukraine, Russia, France and Germany), the parties agreed on a ceasefire from 0000, February 15, as well as the withdrawal of all heavy weapons within 48 hours.
However, Russian-backed militants and the Russian armed forces then intensified their attacks (according to ATO headquarters, since February 15 the militants made 253 attacks on ATO positions) and began an offensive, and therefore on February 18 the Ukrainian military were forced to leave Debaltseve.
Poroshenko said that Russia was forcing Ukrainian servicemen in Debaltseve to surrender and hand over all of their military equipment.
According to recent reports of the General Staff of Ukrainian Armed Forces, 13 Ukrainian soldiers were killed and 157 injured by artillery during the withdrawal from Debaltseve, with over 90 soldiers being taken captive and another 82 missing.