President enacts NSDC decision on 'countermeasures against Russian aggression and acts of terrorism'
Ukrainian President Petro Poroshenko on Friday enacted a decision of the National Security and Defense Council dated January 25 "On emergency measures to counter the Russian threat and terrorist attacks supported by the Russian Federation."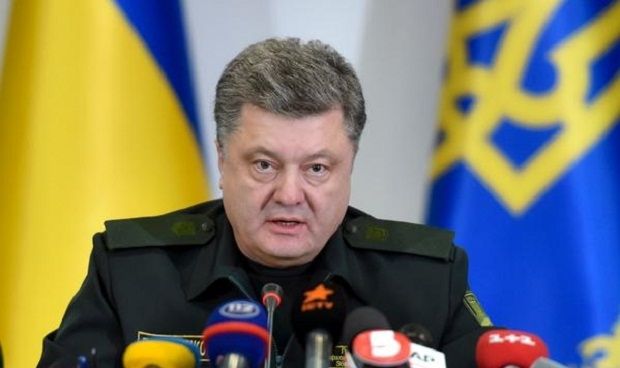 Photo from Twitter, Petro Poroshenko
The president's press service reported that the Cabinet of Ministers has been instructed to take immediate measures to assist the victims of terrorist attacks on the territory of Donetsk and Luhansk regions - primarily the civilian population in Mariupol.
The government also has to draw up a number of draft laws regarding, in particular, the improvement of the composition, functions and powers of the Anti-Terrorism Center at the Security Service of Ukraine, as well as bringing suspects to account for committing crimes against humanity.
In addition, the government and the National Council on Television and Radio Broadcasting were instructed to undertake urgent measures aimed at stopping Russian information aggression carried out using foreign and domestic media.
The government and local administrations were given a two-week period to provide places of temporary accommodation for people evacuated from parts of Donetsk and Luhansk regions.
The Security Service of Ukraine has to step up its activities in "counteracting the dangerous influence of Russia on the political situation in Ukraine and its individual regions; conducting within two weeks and with the support of the local authorities an appropriate and comprehensive information campaign for the populations of Dnipropetrovsk, Donetsk, Zaporizhzhia, Lugansk, Mykolaiv, Odesa, Kharkiv, Kherson and Kyiv regions on how to behave in the event of a terrorist attack threat, in particular by creating appropriate sites and social network pages."
Interior Ministry was tasked with stepping up its control over compliance with the residence registration procedure of Ukrainian citizens, foreigners and stateless persons.
The State Fiscal Service, together with the State Service for Financial Monitoring, were instructed to take immediate and effective measures aimed at identifying and eliminating terrorism financing channels.
NSDC suggested the National Commission exercising state regulation in the areas of energy and utilities, with the participation of the state enterprise Energorynok, take measures to exclude companies that produce electricity on temporarily uncontrolled territories from carrying out settlements on the electricity market.
The chairmen of the Donetsk and Luhansk regional state administrations were instructed to immediately take comprehensive measures to support the operations of vital facilities for human settlements that are located in the territories under their control, as well as measures to improve the staffing of regional state administrations.
The NSDC also suggested that the Prosecutor General take measures regarding recognizing the "Donetsk People's Republic" and "Luhansk People's Republic" militant groups as terrorist organizations.
If you see a spelling error on our site, select it and press Ctrl+Enter