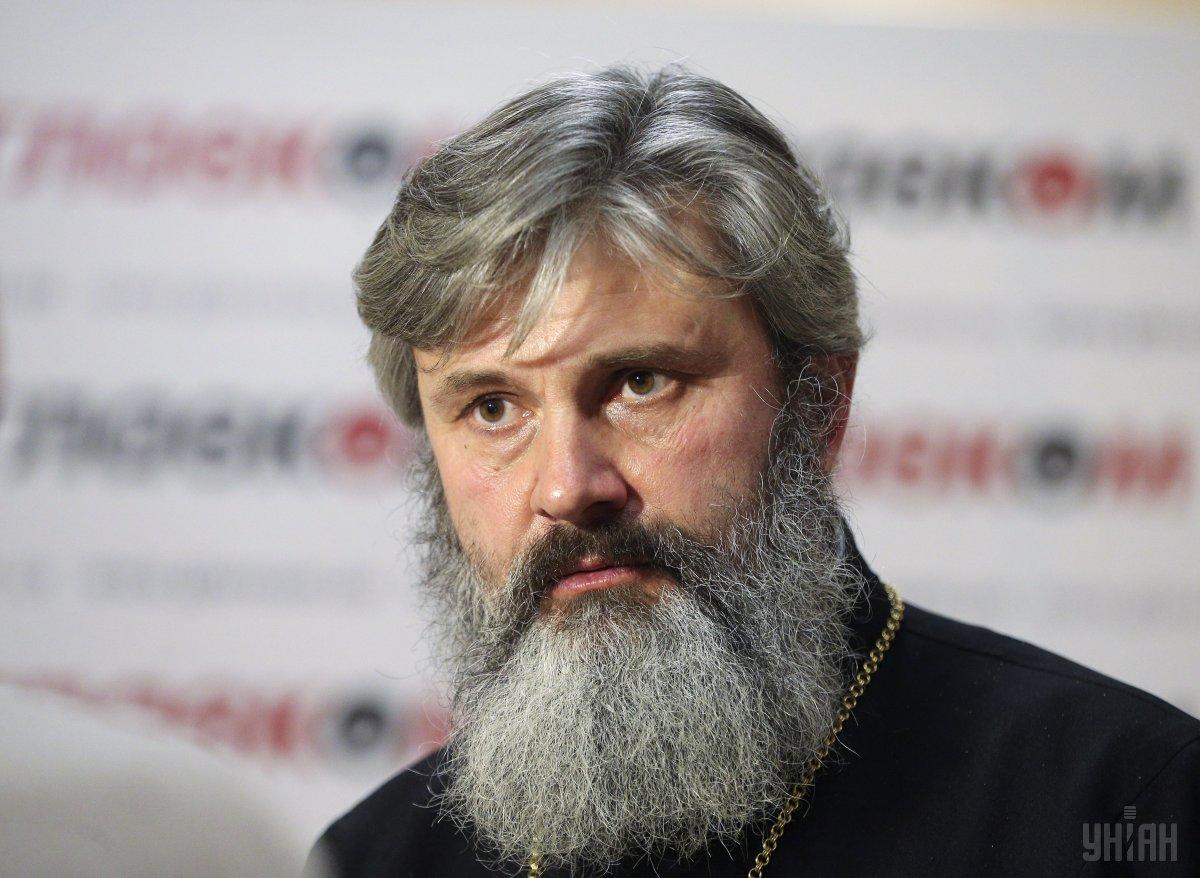 Archbishop Klyment was detained at the Simferopol bus station / Photo from UNIAN
Archbishop Klyment, or Clement (Kushch) of Simferopol and Crimea, who was detained by the de-facto authorities of Crimea in Russia-occupied Simferopol, is facing a 15-day detention term.
Local "law-enforcers" said that the cause behind the detention was an anonymous phone call to the police. An unidentified person reported about stolen things from the church building of the parish headed by Klyment, who is a member of the Orthodox Church of Ukraine, representative of the Crimea Process initiative Mykhailo Batrak said on Facebook on Sunday, March 3.
However, after they failed to prove the theft from his own church, they made up a new accusation. He is said to have quarreled with someone at the central bus station, where he was detained, allegedly uttering profanities, which is an administrative offence entailing up to 15 days of administrative arrest as the punishment.
"An interesting fact is that Klyment had been detained and searched before the police received the call about allegedly missing things from the temple, and the list of the allegedly missing things 'coincided' with those found with Archbishop Klyment during the search. That is, he was first detained and searched, and then they started making up the reason," Batrak said.
"After those at the central police station failed to charge him with stealing things from his own church, they brought another charges against him (hooliganism with up to 15 days of administrative arrest), alleging he used profanities when quarreling with someone at the bus station. Klyment has just been transferred to Simferopol's Kyivsky police station where they will issue an administrative report on him for hooliganism," he added.
Read alsoDe-facto authorities in Russia-occupied Crimea detain Archbishop Klyment of Simferopol
Klyment's lawyer, Nikolay Polozov, said on Facebook that his client was going to visit Ukrainian prisoner Pavlo Hryb in Russia to confess and give communion to him.
Ukraine's Ministry of Foreign Affairs (MFA) responded to the detention of Klyment.
"We are concerned about reports about the detention of Archbishop Klyment in Russia-occupied Crimea. Russian occupying authorities continue their systematic attacks on Ukrainian Orthodoxy in the occupied territory," MFA spokesperson Kateryna Zelenko said on Twitter on Sunday, March 3.
Persecutions of religious freedoms and the rights of believers continue in illegally occupied Crimea, she said. "We will draw attention of the UN, the Council of Europe and the OSCE to the detention of Archbishop Klyment," she added.