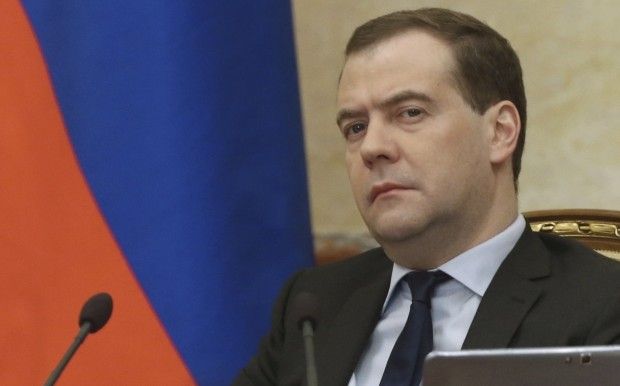 REUTERS
Russian Prime Minister Dmitry Medvedev says Russia will respect the choice of Ukrainian citizens in the presidential elections on March 31, 2019.
"A fierce, dirty election campaign is underway in Ukraine. Observing this, we in Russia do not yet see with whom we could talk in Ukraine. But in any case, we will respect the choice of our neighbors, the choice of Ukrainians. And we will be open to dialogue with the new leadership – if it is interested in it. However, it matters whether the victory is fair, whether the election is legitimate and not rigged," he told the Bulgarian newspaper Trud on the eve of his visit to this country, as reported by the Russian government's press service on March 4.
Read alsoRussian special services preparing fake exit polls in Ukraine – OSINT group
"Recent events make one suspect the worst. The presidential campaign in that country has featured flagrant violations of generally accepted democratic norms, including those guiding European countries," he said.
Medvedev believes that at the very outset of the pre-election marathon, Kyiv, "under flimsy pretexts, closed polling stations in its diplomatic and consular offices in Russia."
"The procedure for observing the voting process has been violated," the official added.
"Russian citizens were prohibited from participating in election monitoring, even as part of OSCE monitoring missions. This is a serious violation of Ukraine's own international obligations. And it is exceedingly rare in practice. Obviously, the ruling regime has something to hide," he said.
At the same time, Medvedev claimed that "Russia is certainly eager to improve relations with Ukraine."
Read alsoPoroshenko enacts law banning Russian citizens as election observers in Ukraine
"We are neighbors. Many Russians have relatives there, just as Ukrainians have them in Russia. We have a common history and culture. Until recently, we had mutually beneficial economic relations. But now the situation is very difficult. To change it, we both need to move toward the middle. However, Kyiv behaves in such a way that it is difficult to make any predictions," he said.
According to the Russian prime minister, "the government in Kyiv regularly levels made-up accusations at us [Russia]."
"It seems that, without Russia, President Poroshenko, who is running for a second term, would have had nothing to talk to his people about. If he cannot sustain dialogue with his people, he is unlikely to be able to negotiate with the leadership of a neighboring state," he summed up.
Read alsoKremlin's plan to sow chaos in Ukraine
As UNIAN reported earlier, the Verkhovna Rada, Ukraine's Parliament, on February 7, 2019, passed bill No. 9524 on amendments to certain laws on observing the electoral process in Ukraine that bans citizens of the Russian Federation from being recruited as election observers for the presidential, parliamentary, and local elections in Ukraine.
In turn, the Director of the OSCE Office for Democratic Institutions and Human Rights, Ingibjörg Solrun Gisladottir, earlier expressed her regret over the move of Ukrainian authorities. According to her, the ban on Russian observers is contrary to the obligations of Ukraine to the OSCE and its member states.
On February 6, the Foreign Ministry of Ukraine noted that it would not accept applications from any citizen of the Russian Federation for registration as official observers at elections in Ukraine. The ministry insists the refusal to register the holders of Russian passports is not contrary to Ukraine's international obligations in the context of free and democratic elections.
Ukrainian President Petro Poroshenko promised to order the country's Border Service not to allow crossing of Russian observers into Ukraine.
Russia's Foreign Ministry announced on February 8 it had decided not to send Russian citizens to Ukraine as part of the observation mission.