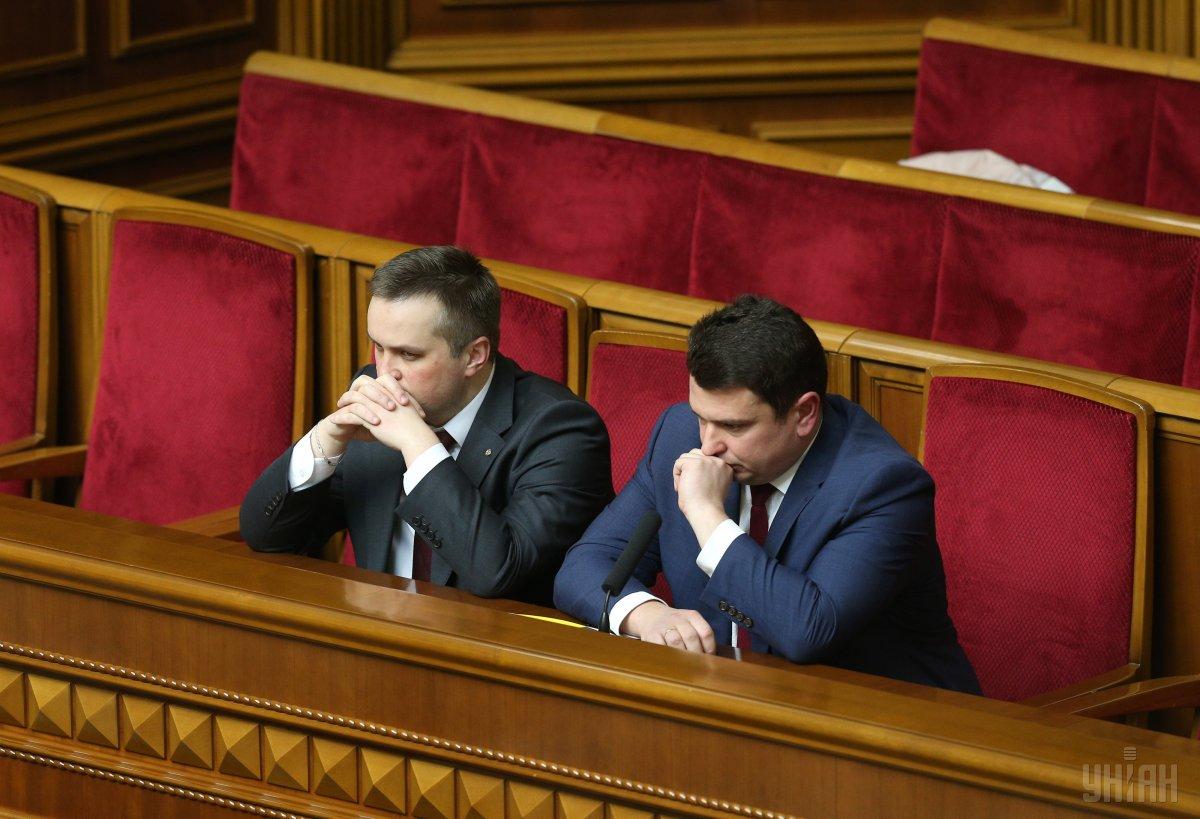 SAPO Chief Kholodnytsky (left) and NABU Director Sytnyk (right) / Photo from UNIAN
Directors of two anti-graft agencies – Chief of the Specialized Anti-corruption Prosecutor's Office (SAPO) Nazar Kholodnytsky and Director of the National Anti-corruption Bureau of Ukraine (NABU) Artem Sytnyk have been invited to Ukraine's parliament to attend a March 13 parliamentary committee hearing on preventing and combating corruption, which is investigating the facts of large-scale embezzlement in the defense sector.
"We will probably put questions to Mr. Sytnyk on Wednesday [March 6], when he comes to our committee's meeting. There I will show the materials of this case, which they [at NABU] have, and I will ask: why there has been no progress in the case," Member of Parliament Borys Bereza, who is deputy chairman of the committee, said on Hromadske TV on March 5.
"I will not tell you how Sytnyk should answer. It's a different question. Why nothing has happened during the two years [NABU received the case on March 1, 2017]? Why did it last for the two years? Why for the two years Mr. Hladkovsky [Ihor Hladkovsky, the son of the then First Deputy Secretary of the National Security and Defense Council Oleh Hladkovsky] and others have been involved in the same schemes investigated in this case. These are the questions perhaps Sytnyk must answer," he added.
Read alsoU.S. Ambassador calls on Ukraine's government to investigate corruption at Ukroboronprom
Earlier, Bereza said that the Military Prosecutor's Office transferred materials of a case about the theft in the defensive sector to the National Anti-Corruption Bureau in March 2017. The lawmaker says that there was one of those cases including materials concerning Ihor Hladkovsky, who was mentioned in the investigation of the Bihus.info journalists.
As UNIAN reported earlier, Ukrainian investigative journalists on February 25 released a report claiming that Ihor Hladkovsky, the son of First Deputy Secretary of the National Security and Defense Council of Ukraine Oleh Hladkovsky, is involved in large-scale embezzlement of budget funds in the defense sector. It is alleged that Hladkovsky Jr. and his partners conspired with defense officials to procure military spare parts from Russian smugglers, as well as from Ukrainian Army warehouses. Prices of spare parts, which journalists say often failed to meet quality standards, were hiked significantly. Then, the journalists reported, the perpetrators would sell these goods to defense plants in conspiracy with top managers of Ukroboronprom, Ukraine's state-owned Defense Concern. The group allegedly earned from Ukroboronprom at least UAH 250 million in kickbacks.
The journalists consider Oleh Hladkovsky to be Ukrainian President Petro Poroshenko's ally set to informally "supervise" the country's defense industry. On February 26, Poroshenko suspended Oleh Hladkovsky from office, pending a criminal investigation. On March 4, Poroshenko signed a decree to dismiss Hladkovsky from the post of First Deputy Secretary of the National Security and Defense Council.
The journalists also reported about another scheme involving the purchase of An-26 altimeters originating from Russia where the profit of the accused was estimated at least US$300,000, which was paid from Ukraine's national budget. Involved in the scheme were Oleh Hladkovsky, his son Ihor Hladkovsky, Pavlo Bukin, who is now Director General of state-run Ukroboronprom Concern, and former employees of Ukroboronprom Vitaliy Zhukov and Stanislav Khosh, who were business partners of Hladkovsky Jr., journalists from the Bihus.Info investigative project reported. Ukroboronprom paid $580,000 for the equipment whose purchasing price was about $85,000, the investigation says.