US Senator slams White House on Ukraine: 'I'm ashamed of my country'
The White House should arm Kyiv to help it in its conflict with Russian-backed militants in the east of Ukraine, U.S. Senator John McCain said during the Face the Nation program on U.S. television's CBS channel on Sunday, according to Ukrainian news broadcaster TSN.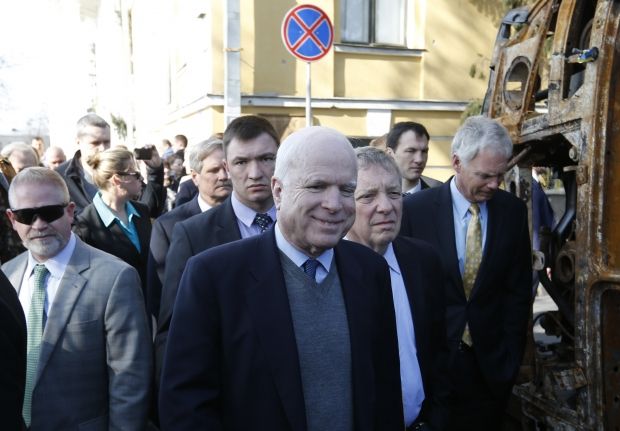 REUTERS
"I'm ashamed of my country, I'm ashamed of my president, and I'm ashamed of myself - that I haven't done more to help these people," McCain said.
According to McCain, European countries such as France and Germany have failed to stop Russian President Vladimir Putin's attack on Ukraine.
"I believe that the German chancellor [Angela Merkel] and the president of France [François Hollande] legitimized, for the first in the last 70 years, the dismemberment of a country in Europe. It's shameful - Vladimir Putin has not paid any price, even the ceasefire was violated until he achieved his objective," McCain said.
McCain also called on the U.S. government to supply U.S. weapons to Ukraine in order to help the country in its fight against the Russian-backed militants and separatists.
"The Ukrainians are not asking for American boots on the ground… They're asking for weapons to defend themselves, and they're being slaughtered," he said.
"Vladimir Putin wants Ukraine not to be a part of Europe and he is succeeding in doing so… This is really a dark chapter in the history of our alliance," McCain said.
McCain's comments seemed to surprise the anchorman of Face the Nation, the prominent U.S. journalist Bob Schiffer.
"Senator, I've known you for a long, long time. I've interviewed you many, many times, but I've never heard you say you're ashamed of your country, which you've just said," Schiffer said.
"And I'm ashamed of myself," McCain replied.
If you see a spelling error on our site, select it and press Ctrl+Enter