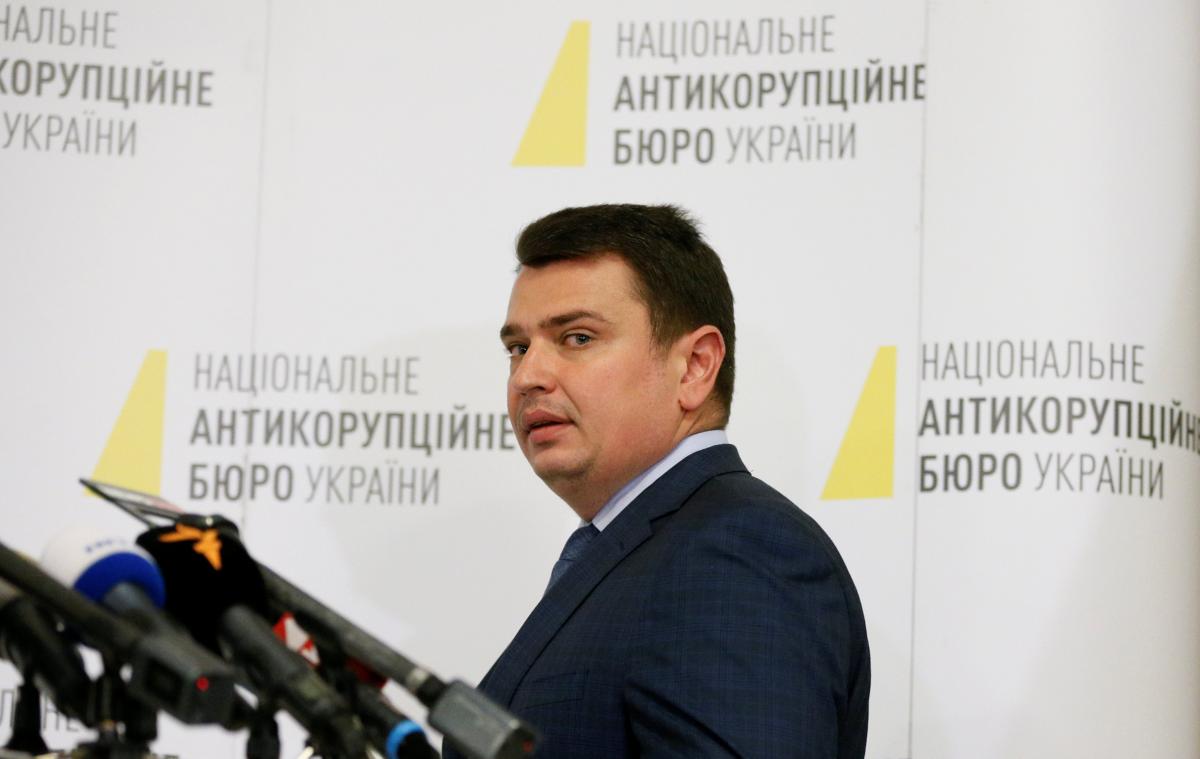 REUTERS
Artem Sytnyk, Director of the National Anti-corruption Bureau of Ukraine, said that the Bureau had launched an internal investigation following a journalistic investigation by the Nashi Groshi project.
In a video comment, Sytnyk claimed that there are "some inaccuracies" in the investigation.
"Yevhen Shevchenko [one of the journalistic probe targets] is not a NABU official and has never been one. He is someone who agreed to potential cooperation with NABU on certain cases," Sytnyk said.
He assured that such "cooperation" was maintained within the legislative framework and will shortly be legally assessed following an official investigation.
"A few days ago we started an internal investigation. It is being conducted by the NABU internal control department. Once handed down, the conclusion of this investigation will be presented to the national commission if there are grounds for bringing NABU employees to responsibility," Sytnyk said.
He added that NABU was interested in providing absolutely all materials that the colleagues from the State Bureau of Investigation might require in the case of possible abuses by law enforcement officers during investigation into defense fraud.
Read alsoUkraine's Prosecutor General says investigative journalist broke encryption codes to get info
"For us, it is a matter of dignity to finally respond to these specific manipulations and simply, perhaps, erroneous assertions," he said.
He stressed that NABU operatives, while conducting high-profile investigations, very often risk their health and life, remaining under constant pressure, but still doing their job.
"Therefore, we are ready to provide full access to the materials required by the SBI, conduct an internal investigation by an absolutely independent investigative unit, which is the NABU's Internal Control Department, and give answers to all the questions that will arise," Sytnyk said.
In addition, commenting on the course of the investigation of corruption cases in the defense sphere, Sytnyk said that NABU had initiated the recovery of the relevant criminal proceedings from the Prosecutor General's Office.
Read alsoKryvonos appointed Deputy Secretary of Ukraine's Security and Defense Council – decree
"NABU never had at its disposal materials containing correspondence allegedly of Mr. Hladkovsky and allegedly of Mr. Zhukov. To date, to conduct a proper investigation, and to conduct a probe into these cases, we need to get the carriers containing this correspondence, and the materials that are now in the Prosecutor General's Office. I have to say that we are not aware of what exactly they have there but we have initiated the issue of requesting these cases. I hope that these decisions will be considered, and these cases will be handed over to NABU," said Sytnyk.
Commenting on the information of investigative journalists that a NABU investigator allegedly deleted a firm from the so-called Hladkovsky Group from the list of fictitious ones, Sytnyk stated that the Bureau had never drafted such a list.
"We don't draft such a list, we don't have such powers," he said.
Read alsoCorruption in Ukroboronprom: Journalists claim anti-corruption watchdog, prosecutors involved
According to Sytnyk, "NABU never issued, does not issue and will not issue certificates stating whether a company is fictitious or not since this is not beyond the Bureau's sphere of competence".
At the same time, Sytnyk "absolutely disagreed" with the fact that NABU had failed to investigate this case.
"If we analyze the movement of this case, a large amount of work has been done there, the tanks on which these sights are installed have been inspected. Now we are trying to reach the final result in this case," he said.