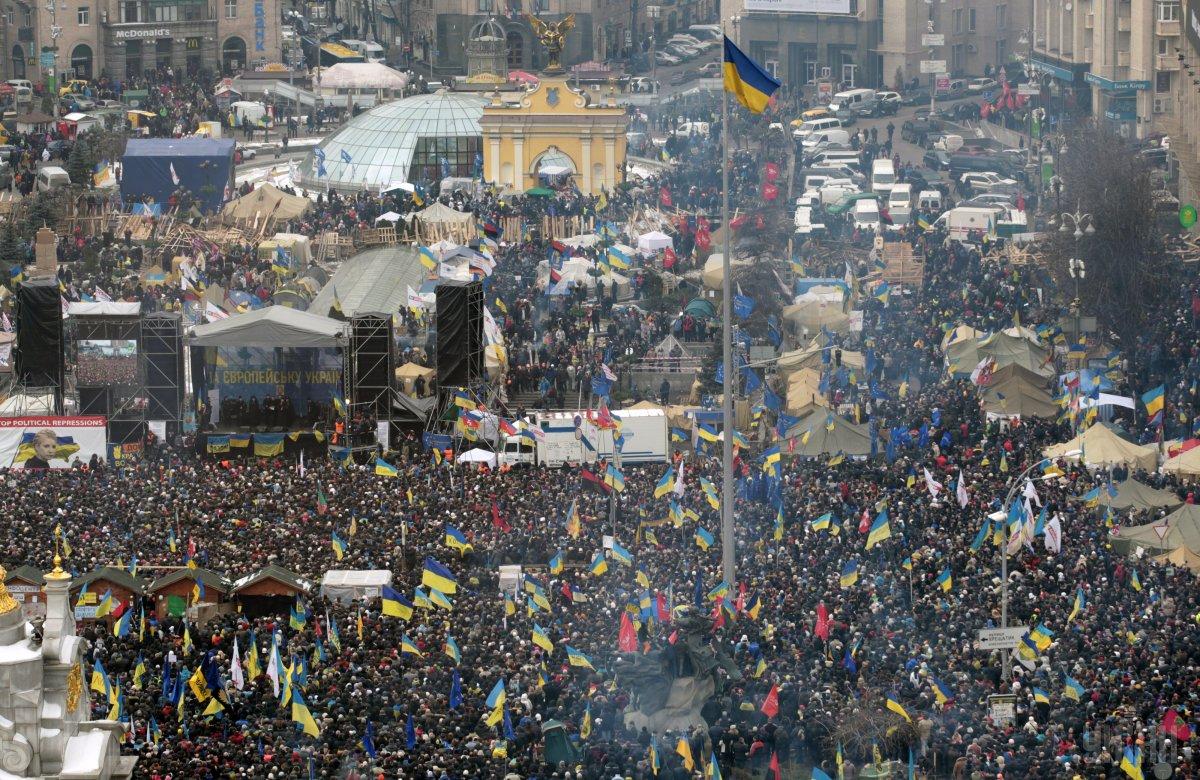 Photo from UNIAN
Investigative journalists of the Slidstvo project have scrutinized video footage from February 18, 2014, identifying five locations where a man resembling Ukrainian National Guard General Volodymyr Hrynyak appears to be actively involved in riot police's violence against Maidan protesters. 
In one shot, he is seen standing near another high-ranking enforcement official who is now wanted for his role in crushing the protests and who has been hiding from justice in Russia, according to the Kharkiv Human Rights Protection Group.
Read alsoGuilty: Yanukovych sentenced to 13 years in prison for high treason, complicity in war
"None of this is news to prosecutors from the Special Investigations Department, who first laid charges against Hrynyak in December 2016, but it does make it even more baffling that Hrynyak has not only continued to hold high office, but has even been promoted to a higher rank since Maidan," the report says.
Hrynyak was the former Deputy Head of the Interior Ministry's Department of Public Security, and now heads an similar department within Ukraine's National Guard. He is accused of involvement in organizing the deliberate killing of Maidan protests on February 18, 2014, one of the bloodiest days of the Euromaidan uprising; of obstructing protests; and of other offences.
He was appointed commander of a merged police unit during Euromaidan, and investigators from the Special Investigations Department believe that he coordinated police forces during the protests. Even without the video footage and other evidence, that position alone makes it startling that he simply moved into a similar post after Maidan, implying he is once again responsible for dealing with mass protests.
On one of the video shots, Hrynyak is seen standing next to Petro Fedchuk, a Deputy Head of the Kyiv Police and Mykola Mykolenko, Internal Forces General. The Special Investigations Department has issued indictments against Fedchuk over the violent dispersal of students at the Maidan on November 30, 2013.  It was largely public outrage over the gratuitous brutality by Berkut riot police that brought huge masses of Ukrainians out onto the streets. Now,  Fedchuk is also in hiding in Russia where he appears to be using his experience in crushing protests, this time working for Vladimir Putin's regime.
Read alsoEx-riot police operative suspected of murdering Maidan protesters allegedly killed in Syria
Challenged by Slidstvo journalists over the video shots, Hrynyak claimed that he had simply been walking by, as he lived in the center of Kyiv.  This does not explain many things, including why, in one of the shots, he seems to be holding a weapon. He claims that during the Euromaidan, he was effectively suspended from carrying out his duties.
This is not the view of the Special Investigations Department, and certainly not borne out by the records of the telephone calls between him and top enforcement officers during the protests. Yevhenia Zakrevska, lawyer representing Maidan victims or their families, told Slidstvo that at certain times, Hrynyak was the highest-ranking head amongst the police coordinating Berkut and the internal forces.
The investigators sought back in December 2016  to have Hrynyak remanded in custody, but to no avail.
Horbatyuk noted that the assertion made by Interior Minister Arsen Avakov that Hrynyak was innocent could in itself be viewed as pressure on the court.
The case against Hrynyak was only passed to the court in May 2018. In the nine months since then, the court has not begun considering the case on its merits.