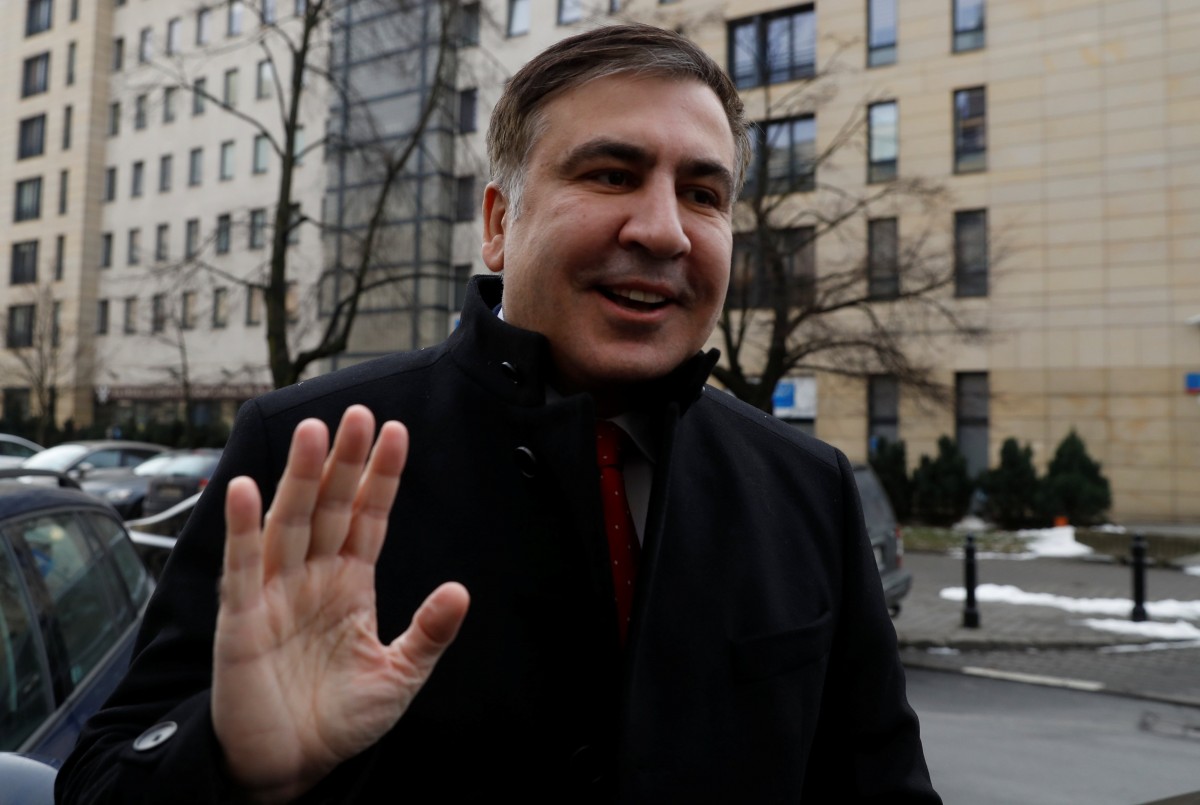 REUTERS
Leader of the Movement of New Forces Party in Ukraine, ex-Governor of Ukraine's Odesa region and ex-President of Georgia Mikheil Saakashvili has confirmed his plans to return to Ukraine.
"When the incumbent president [Petro Poroshenko] was elected, he had a slogan 'President from the first round.' Now the people of Ukraine have a slogan 'Away with the president from the first round.' When he is defeated in the first round, I will arrive at Kyiv the next day. I am convinced no border guards will perform the illegal orders he gave regarding the ban of my return to Ukraine," Saakashvili told the Pravo Na Vladu TV panel show, the TSN news service reported.
Read alsoUkraine border guards remind Saakashvili of entry ban until 2021 following "comeback" statement
Saakashvili says his e-ticket to Kyiv shown in the media is not fake.
"I am returning to Ukraine because this is my legal right after the [Ukrainian] courts pinned a falsified case on me. [Ukraine's Prosecutor General Yuriy] Lutsenko called me an FSB agent. Well, I am an agent who did not run away and wanted to be tried. I want to defend my rights. I have no political ambitions in Ukraine," he added.
As UNIAN reported earlier, at the end of July 2017, Poroshenko signed a decree on terminating Saakashvili's Ukrainian citizenship he had been granted earlier before he took up the top post at Odesa State Regional Administration.
According to Anton Gerashchenko, a member of the Council of the Ministry of Internal Affairs, Saakashvili was deprived of citizenship after it was proved he had provided inaccurate information while applying for it, in particular, in terms of his criminal record back in Georgia.
On September 10, 2017, Saakashvili, earlier deprived of Ukrainian citizenship, managed to cross into Ukraine at the Shehyni checkpoint. A crowd of the politician's supporters broke through the cordons of the Ukrainian law enforcers, took Saakashvili and a number of MPs and public figures accompanying Saakashvili in a tight ring, and literally forced the group's entry to the territory of Ukraine evading standard border control routine.
According to Anton Gerashchenko, Saakashvili was accompanied by Members of Parliament Yulia Tymoshenko, Serhiy Vlasenko, Yury Derevianko, Pavlo Kostenko, Dmytro Dobrodomov, and former SBU chief Valentyn Nalyvaichenko.
Poroshenko said that the border guards during penetration of the state border by Saakashvili along with his entourage had full right to use weapons, but did not allow to "spark fire sought by populist politicians."
On December 5, law enforcers detained Saakashvili in Kyiv but later the same day his supporters managed to get him released from a convoy vehicle.
On December 11, a district court in Kyiv refused to satisfy the prosecution's petition to order a two-month house arrest. The Kyiv Court of Appeal four times postponed the consideration of the appeal against the said court decision.
The Prosecutor General's Office of Ukraine put Saakashvili on the wanted list on charges of assisting members of criminal organizations and concealing their criminal activities (Part 2 of Article 256).
According to Prosecutor General Yuriy Lutsenko, Saakashvili organized protests to seize state power in Ukraine and assist members of the criminal gang of ex-President Viktor Yanukovych and businessman Serhiy Kurchenko in halting their criminal prosecution.
On February 12, 2018, Saakashvili was transferred to Poland under the readmission procedure.