Ukraine's 1+1 TV channel replaced by fake broadcaster in Donetsk
Ukraine's 1+1 television channel in Donetsk has been replaced by a fake "Potemkin" 1+1 channel with an old logo of the Ukrainian channel, Paul Gregory, expert on Russia, the Soviet Union and Ukraine, Professor Emeritus at the University of Houston, wrote in his article on TheBlaze news Web site on Monday.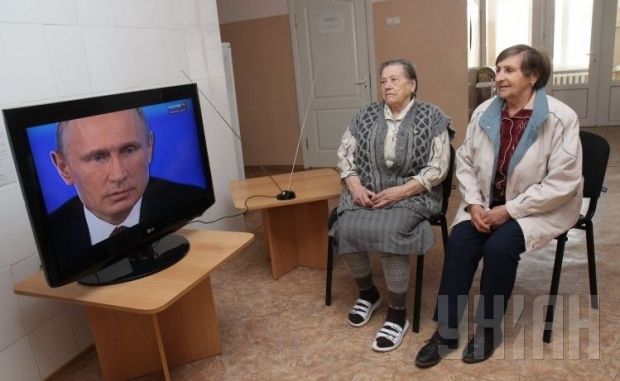 UNIAN
"The Potemkin 1+1 carries the Ukraine 1+1 logo in the upper left hand corner. Gullible viewers believe they are watching broadcasts that originate in Kyiv. Contrary to its published schedule of news, weather, sports, and entertainment, Potemkin 1+1 broadcasts old movies, comedies, and other forms of light entertainment. There are no news programs, although the Kyiv schedule has regular news breaks," Gregory said.
"Every now and then, Putin's propagandists actually allow the direct rebroadcasting of genuine 1+1 broadcasting to Donetsk screens — when it works to their advantage."
"For example, Donetsk residents were allowed to watch the ceremony in Kyiv honoring the "Heavenly Hundred" killed by snipers during the Maidan uprising. Why did Putin's manipulators allow this coverage? Donetsk resident who have witnessed wanton death and destruction react to such images thinking to themselves: We have lost thousands and those ingrates in Kiev are mourning the loss of 100! They simply do not care about us," Gregory said.
As reported earlier, BBC Ukraine reported that Ukrainian television broadcasts had disappeared from viewer screens in the self-proclaimed People's Republic of Donetsk and they had been replaced by Russian channels, and by regional channels operated by separatists.
If you see a spelling error on our site, select it and press Ctrl+Enter