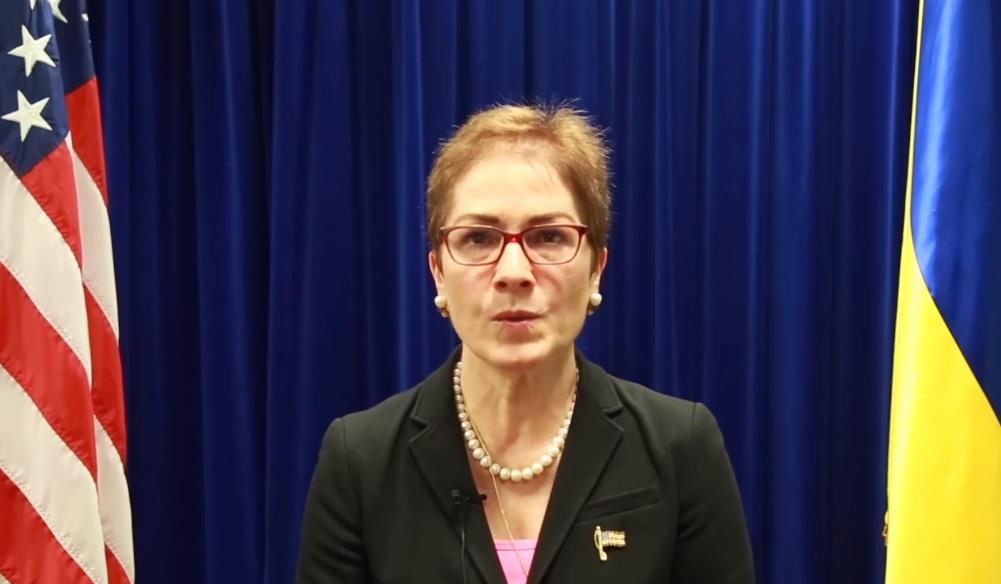 Snap /. U.S. Embassy in Ukraine / Facebook
U.S. Ambassador to Ukraine Marie Yovanovitch has urged Ukrainian citizens to cast their ballots on election day a week from today.
"If you haven't already made a plan to vote in the Ukrainian presidential elections, I urge you to do so," Yovanovitch said in a video address posted on the embassy website Sunday.
"Democracy only works with the active participation of its citizens. And elections are how we decide who are leaders will be and tell them what we expect them to do," she said.
The diplomat recalled that it was President Barack Obama who had appointed her to head the U.S. Embassy in Ukraine and, after Donald Trump was elected in 2016, she continued in the position to "promote and carry out the policies" of the new president and his administration.
"This is one of the marks of a true democracy. After the elections, whether an incumbent is re-elected or a new president comes to office, citizens come together and reaffirm their support for the nation and for the will of the voters," Yovanovitch said.
Read alsoPoroshenko: Ambassador Marie Yovanovitch enjoys my full support
"The United States stands with the people of Ukraine and expecting free, fair, and safe elections in Ukraine next weekend," the U.S. Ambassador stated. "And we urge the Ukrainian authorities, civil society, and all citizens to play their part in Ukraine's democracy.
Earlier this week, Ambassador Yovanovitch met with Interior Minister Arsen Avakov to stress his role in and responsibility for preventing acts of violence by extremist groups during the elections.
The meeting came in the wake of an earlier statement by the "National Squads" NGO representative claiming the organization could use force at the polling stations during the presidential election in case they spotted signs of fraud.
"If law enforcers turn a blind eye to outright violations and don't want to document them, we will do what our Commander stated via Telegram [(Ihor Mikhaylenko, the organization's chief, wrote: 'If we need to punch someone in the face in the name of justice, we will do this without delay']," said Vdovin.
President Poroshenko earlier took a critical stance on the issue of certain public organizations challenging state monopoly on force. "Please, tell me, did anyone feel safer watching the so-called 'National Squads' on Khreshchatyk? Monopoly on force, monopoly on arms belongs to the state," he said.