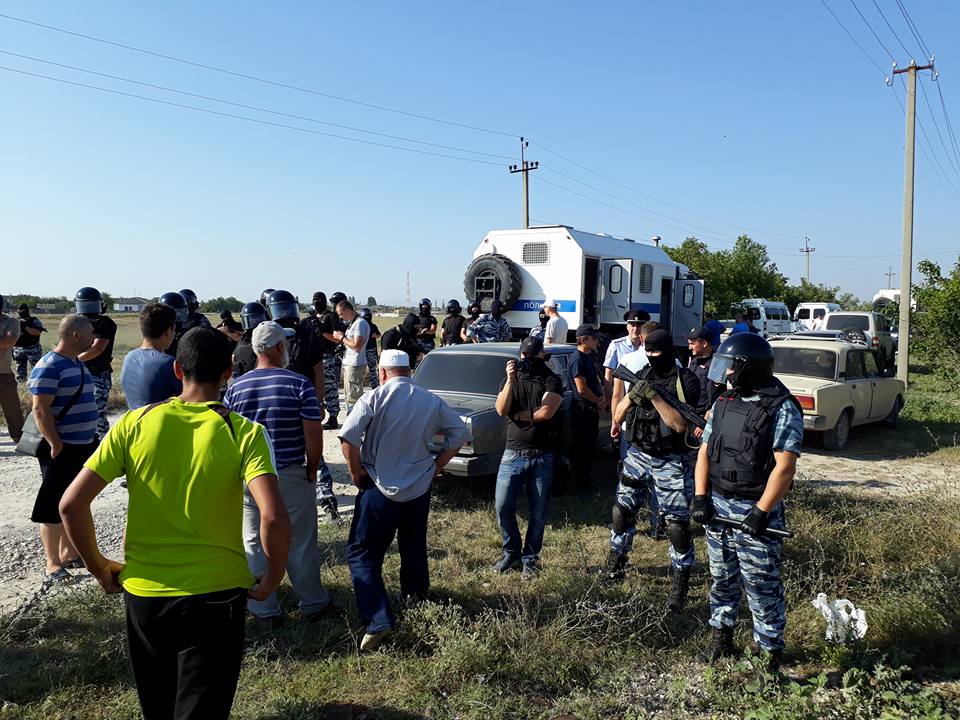 Alimdar Crimean Solidarity, Facebook
All Crimean Tatar activists earlier detained by occupation authorities in Crimea following mass searches of their homes within the so-called "Hizb ut Tahrir case" will be remanded in custody pending trial, at least until May 15, that's according to a ruling handed down by a Russia-controlled "court" in the occupied Simferopol Thursday.
According to the Crimea Process NGO, the hearings to select a prevention measure against 23 activists were held on March 27 and March 28 behind closed doors.
Many of the detainees are activists of the Crimean Solidarity NGO.
The persons who will remain in custody until May 15 are the following: Shaban Umerov,  Rustem Sheykhaliyev, Riza Izetov, Farid Basarov, Dzhemil Gafarov, Seyran Murtaza, Alim Karimov, Tofik Abdulgaziev, Bilyal Adilov, Medzhit Abdurakhmanov,  Rustem Sheihaliev, Seitveli Seytabdiyev, Yashar Muedinov, Izet Abdulaev, Asan Yanikov, Enver Ametov, Ruslan Suleymanov, Akim Bekirov, Erfan Osman, Servet Gaziev, Remzi Bekirov, Osman Arifmemetov, and Vladlen Abdulkadyrov.
Remzi Bekirov, Shaban Umerov, Riza Izetov, Farid Basarov, and Ruslan suleymanov are charged with organizing the activities of a terrorist organization), while another 20 persons, including Edem Yayachikov, who is still missing, are charged with being part of a terrorist organization.
As UNIAN reported earlier, Russian law enforcers in illegally occupied Crimea on March 27 conducted massive searches in homes of 25 Crimean Tatars, having taken a number of detainees to the FSB office in Simferopol.
The FSB press service claimed the searches were part of the investigation into the Hizb ut Tahrir organization, which is outlawed in Russia. Russian law enforcers later reported on the detention of 22 individuals. Three more Crimean Tatars have been detained in Russia's Rostov-on-Don. "Their houses were searched yesterday in their absence," NGO Crimean Solidarity reported on Facebook on March 28.
Hizb ut Tahrir is not banned in Ukraine.
Ukrainian diplomats are in contact with Ukraine's foreign partners over the new wave of repression against Crimean Tatars in the occupied peninsula on the part of the Russian Federation.
The European Union has called on Russia to stop putting pressure on Crimean Tatars in the temporarily occupied Crimea.
The U.S., UK, and Poland have also addressed the issue, condemning repression, including searches and arrests, and other human rights abuse, and calling on Russia to release Crimean Tatar detainees.