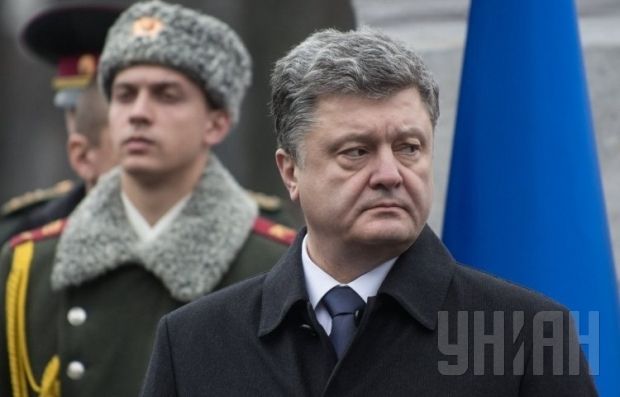 Poroshenko and Merkel touch upon issues of a peacekeeping mission in Ukraine / Photo from UNIAN
Ukrainian President Petro Poroshenko and German Chancellor Angela Merkel held a phone conversation on Friday to discuss the progress of the fulfilment of the Minsk peace accords and the resolution of the Donbas crisis, the presidential press service told UNIAN.
Poroshenko stressed that the Ukrainian party was fulfilling the Minsk agreements, while pro-Russian militants were not observing the ceasefire.
The parties also agreed that in its further policy on Russia, the EU should pay proper attention to the situation with the fulfillment of the Minsk agreements by all the parties concerned.
The Ukrainian president stressed the importance of coordinating efforts for the sake of deploying peacekeeping forces in Ukraine and noted that Ukraine is interested that the given contingent be formed as a mission of the EU.
Poroshenko and Merkel also touched upon the economic situation in Ukraine and the opportunity of additional bailout measures. The German Chancellor assured of further support for Ukraine in the issue of providing a new extended fund facility by the IMF. The parties agreed to maintain a substantive dialogue between the two governments, including the finance ministries.
As UNIAN reported earlier, on February 12, Ukrainian President Petro Poroshenko, Russian President Vladimir Putin, German Chancellor Angela Merkel and French President François Hollande held talks in Minsk to resolve the conflict in the Donbas.
Following the talks, the parties approved a package of measures aimed at the implementation of the Minsk agreements of September. In addition, the leaders of Ukraine, France, Germany and Russia adopted a declaration in support of these measures.
In addition to other provisions of the new agreements reached by the "Normandy Four" leaders on February 12, the parties agreed on a ceasefire to be effective from 0000, February 15, as well as the withdrawal of all heavy weapons. The agreements also provide for the release and exchange of all prisoners of war.
Poroshenko announced the truce in Donbas as of February 15, yet militants continue violating the ceasefire, redeploying and building up their troops along the entire line of contact in eastern Ukraine.