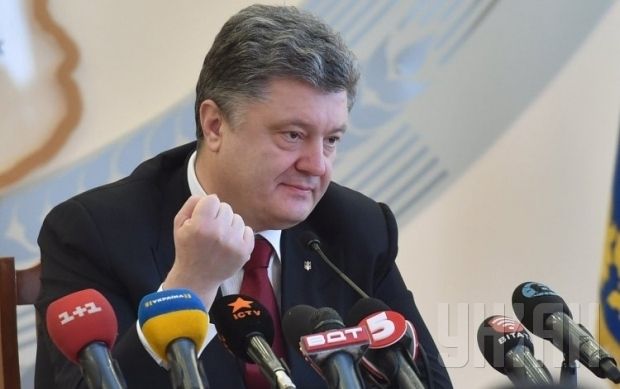 Poroshenko says Nemtsov was like a bridge between Russia and Ukraine / Photo from UNIAN
Ukrainian President Petro Poroshenko says Russian opposition politician Boris Nemtsov, who was murdered in Moscow late on Friday, was a big friend of Ukraine and a big patriot of Russia.
Poroshenko announced this in Vinnytsia on Saturday, an UNIAN correspondent reported.
"We heard terrible news last night: Boris Nemtsov – a big friend of Ukraine and a big patriot of Russia – had been murdered. He was like a bridge connecting Ukraine and Russia, building the kind of relations [between our countries] that I would like to see," Poroshenko said.
Poroshenko described Nemtsov as a symbol of a Russian citizen who sincerely respects Ukraine.
"He has been fighting and giving everything he could to protect freedom in his country. On March 1, he should have demonstrated that there exists a different Russia, which loves Ukraine, respects rights and freedoms of people," the president said.
Poroshenko also said he had talked with Nemtsov a few weeks before.
"He declared he would provide the clear evidence of the Russian Armed Forces' participation [in the war] in Ukraine. Someone was afraid of this, Boris wasn't afraid. And they killed him," Poroshenko said and announced a moment of silence to commemorate Boris Nemtsov.
Russian opposition leader Boris Nemtsov was gunned down on a bridge next to the Kremlin in Moscow late on February 27. Police said the assailants had fired several shots from a passing white car, four which hit Nemtsov in the back. He died on the scene.
Russian authorities report the murder of Nemtsov could have been a contract killing.