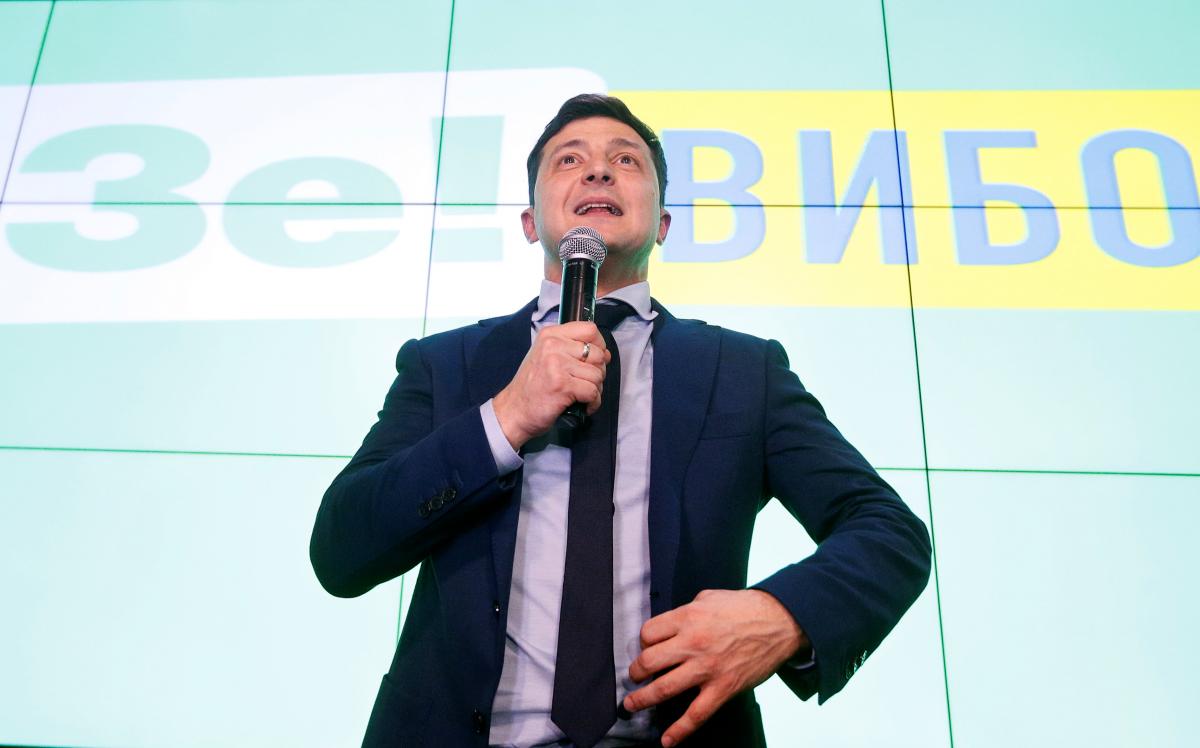 REUTERS
Volodymyr Zelensky says that he is ready to hold a debate with Petro Poroshenko, who, according to findings of March 31 exit polls, is his competitor in the second round of the presidential elections in Ukraine.
"Yes, I am ready. I am ready – whether it is Poroshenko or not. What difference does it make?" he answered a question from a journalist during a press briefing at his presidential campaign headquarters, the TV news service TSN said.
Read alsoNational Exit Poll: Zelensky gets 30.4% of votes, Poroshenko 17.8%, Tymoshenko 14.2%
Zelensky also responded to incumbent President Poroshenko's previous remark that the showman is a puppet of businessman Ihor Kolomoisky, by addressing Poroshenko: "Well, are you Mr. Svynarchuk's puppet? Or is Svynarchuk your puppet?" By mentioning Svynarchuk, Zelensky referred to a recent corruption-related case in the defense sector involving Poroshenko's former business partner Oleh Svynarchuk and his son Ihor Svynarchuk.
As previously reported, National Exit Poll 2019 findings as of 20:00 Kyiv time on March 31 show that 30.6% of Ukrainians voted for presidential candidate Zelensky and 17.8% supported incumbent President Poroshenko in the first round of the presidential election on March 31. Batkivshchyna Party leader Yulia Tymoshenko had 14.2% of the vote.
Findings of TSN's exit poll as of 18:00 Kyiv time on March 31 placed Zelensky first with 30.1% of the vote, Poroshenko ranks second with 18.5%. The third position belongs to Tymoshenko with 14%.
According to an exit poll ordered by TV Channel Pryamiy and conducted by the SOCIS Center, co-founded by main ideologist of the Bloc of Petro Poroshenko (BPP) Ihor Hryniv, the gap between Zelensky and Poroshenko is slightly narrower – 29.25% vs.19.19%, respectively, but the two will face in a run-off. Tymoshenko with 13.75% ranks third, Yuriy Boyko is fourth with 9.24%, and Anatoliy Hrytsenko closes the top five with 7.91%.
The second round of the presidential election is scheduled for April 21.