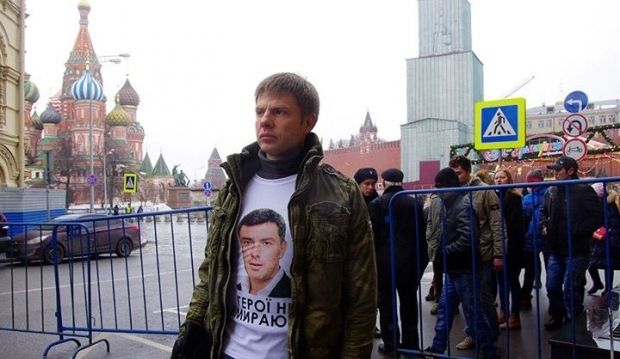 Honcharenko claims he was beaten in a Moscow detention center/ Photo from facebook.com
Ukrainian MP Oleksiy Honcharenko, who was detained in Moscow on Sunday during a march in memory of recently killed Russian opposition politician Boris Nemtsov, has been released, and a court hearing into a misdemeanor he is charged with is scheduled for Monday, he told Ukrainian online newspaper Ukrainska Pravda.
"They have just released me. A court hearing will be tomorrow," he said in a comment at 2051 Kyiv time on Sunday.
Honcharenko says he is accused of a failure to obey a police officer. "Though there was no failure to obey a police officer from my side," he said.
Honcharenko stressed that he had been beaten after detention. He asked to call the doctor, but it was not done.
"They were trying to make me sign certain protocols, attempting to intimidate me, saying that I would never be released and there was no Maidan here, and that the person who was interrogating me had got a blister on his finger from the trigger," Honcharenko said.
"I do not know who they were. There were about 15 persons there. There was one FSB [Russia's Federal Security Service] officer, police officers were also present there. All of them were dressed in civilian clothes," he added.
Answering a question whether he was questioned about riots in Odesa, Ukraine, in May 2014, Honcharenko said: "One of them told me that they wanted to check my involvement in the events of May 2 in Odesa. No more questions [about the riots] followed."
"When they were dragging me to the police station, a certain group of 'activists' were chasing us, shouting: 'This is the strangler of Odesa,'" Honcharenko said.
According to him, the court will consider his case at 1500 Moscow time on Monday.
Honcharenko faces a fine worth RUR 1,000, or 15-day administrative arrest.