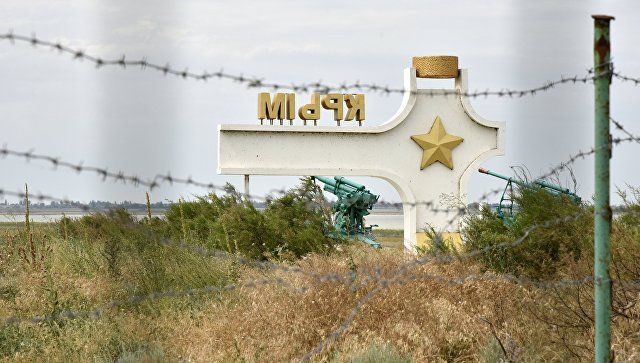 REUTERS
"Economic losses", which Crimea had allegedly suffered during the period of being part of Ukraine, are tentatively estimated at more than 1.5 trillion rubles (about US$23 billion), claims the so-called deputy of the Russian State Duma from the annexed Crimea, a member of the financial market committee Andrei Kozenko.
"According to the most conservative estimates, the amount of damage in the designated areas already significantly exceeds 1.5 trillion [rubles]," he said at the first meeting of the relevant State Duma working group, TASS reports.
According to Kozenko, the amount of "lost revenues" of the Crimean budget over the 23 years in Ukraine could be about 690 billion rubles.
Read alsoChairman of Russia's State Duma says Ukraine must pay for 25 years of Crimea's "annexation"
The State Duma "deputy" also suggested calculating the annual rent paid to Kyiv for the Black Sea fleet stay in Sevastopol, and the income that was not received for the alleged idle status of land plots on the southern coast of the peninsula, "buildings, former resorts, architectural monuments, nature reserves, which were largely appropriated and not used for their intended purpose", alleged environmental damage from construction, and destruction of protected areas, alleged illegal quarry developments, and many other articles.
In addition, the deputy offered to separately analyze the "economic losses" of the peninsula from Kyiv's actions after March 2014.
"The Crimean businesses alone lost 480 million rubles, which was spent on the purchase and refueling of diesel generators during the energy blockade. According to some estimates, the total damage from the energy blockade was about 4 billion rubles," he said.
Kozenko also urged to assess the "moral damage" allegedly inflicted on Crimeans by the actions of the Ukrainian authorities.
Read alsoKremlin not to discuss Crimea status regardless of election results in Ukraine
"Because during the years of the Ukrainian occupation, this has undoubtedly been a violation of the rights of Crimea to use their native language, the imposition of a culture alien to us," said the "deputy".
As UNIAN reported earlier, on March 15, Chairman of Russia's State Duma Viacheslav Volodin said Ukraine's "annexation" of Crimea lasted for 25 years and that Kyiv should pay "compensation" to Russia.
UNIAN memo. Russia annexed Ukraine's Crimea in March 2014 after its troops had occupied the peninsula.
An illegal referendum was held for Crimeans to decide on accession to Russia. De-facto Crimean authorities reported that allegedly 96.77% of the Crimean population had voted for acceding to Russia.
On March 18, 2014, the so-called agreement on the accession of Crimea and the city of Sevastopol to Russia was signed in the Kremlin.
The West did not recognize the annexation in response to which sanctions against Russia were introduced.
Ukraine's parliament voted to designate February 20, 2014, as the official date when the temporary occupation of Crimea began.