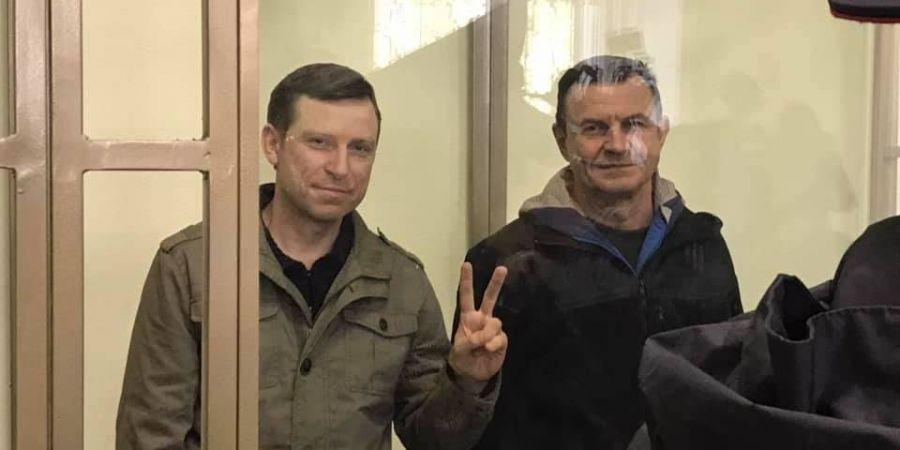 Crimean Human Rights Group / Facebook
Volodymyr Dudka and Oleksiy Bessarabov, the two Ukrainian nationals falsely accused by the Kremlin-controlled so-called "Sevastopol City Court" of sabotage, were sentenced to 14 years in prison, according to the Crimean Human Rights Group.
The court also ruled that the convicts pay fines: Dudka – in the amount of RUB 350,000 rubles, and Bessarabov – in the amount of RUB 300,000.
The corresponding sentence was handed down by "judge" Danil Zemlyukov, a citizen of the Russian Federation, a former judge of the Altai regional court.
Human rights activists also said that the "case of Ukrainian saboteurs" is a politically motivated criminal persecution.
Read alsoRussian report on combat boats starting patrolling area near Crimean Bridge sign of escalation
"In this case, unacceptable evidence was used, and the Ukrainians detained in Crimea in the case of 'Ukrainian saboteurs' were deprived of their liberty for political reasons with violation of fundamental rights and freedoms.," the human rights group said, adding that the men are "political prisoners."
Neither of the accused pleaded guilty to charges.
As UNIAN reported earlier, the trial of two Ukrainian nationals, Volodymyr Dudka and Oleksiy Bessarabov, who were charged with plotting sabotage in Russia-annexed Crimea, started August 2, 2018. Hearings were held behind closed doors. The two men, along with a third Ukrainian national, Dmytro Shtyblykov, were arrested in Crimea in November 2016.
At the time of the arrests, Russia's Federal Security Service (FSB) accused the three of being members of a Ukrainian "saboteur group from the main intelligence directorate of the Ukrainian Defense Ministry."
Ukraine's Defense Ministry rejected the FSB's allegations, calling them "another fabrication of the Russian secret services aimed at justifying its own repressive measures against local residents and discrediting Ukraine in the international arena."
Read alsoEU responds to new detentions of Crimean Tatars in Russian-occupied peninsula
Shtyblykov was tried separately. In November, the Sevastopol City Court found him guilty of attempted sabotage and illegally possessing weapons and sentenced him to five years in prison.
Rights activists say Russia has jailed several Ukrainians on politically motivated charges since Russian military forces occupied Crimea in early 2014 and, less than a month later, annexed the territory from Ukraine after a referendum widely condemned as illegitimate.