Moscow police detain 10 participants in march in memory of murdered Russian opposition leader Nemtsov
Two participants of the Moscow march on Sunday in honor of murdered opposition figure Boris Nemtsov have been arrested for eight days for failing to obey a police officer, the BBC has reported.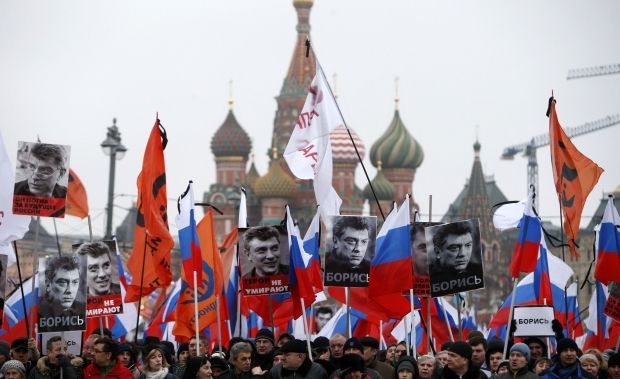 REUTERS
BBC's Russian Service reported, with reference to OVD Info, that Nikolai Aleksiychuk had been arrested under Article 19.3 of the Code of Administrative Infringements. He is also charged under Article 20.3.
"The detainee was found guilty of the public demonstration of Nazi symbols and the failure to obey a police officer," RIA Novosti said, quoting the press service of Moscow's Tver Court.
Another person who attended the march, Fyodor Lakshin, who is a cancer patient, was also sentenced to eight days of administrative arrest under a court ruling. He was also charged with failure to obey a police officer.
The court has already received materials gathered against 10 people who were detained during the march in memory of Nemtsov, who was shot dead within sight of the Kremlin in Moscow late on February 27.
Aleksiychuk's wife was also detained.
OVD Info said that their 12-year-old child is at home alone after the detention of the parents.
If you see a spelling error on our site, select it and press Ctrl+Enter