Russia says Savchenko could be transferred to hospital 'if health worsens'
A representative of the Federal Penitentiary Service has said that Ukrainian pilot, MP and member of the Ukrainian delegation to PACE Nadia Savchenko, now in jail in Moscow, may be transferred to a hospital if her state of health deteriorates, according to the BBC's Russian service.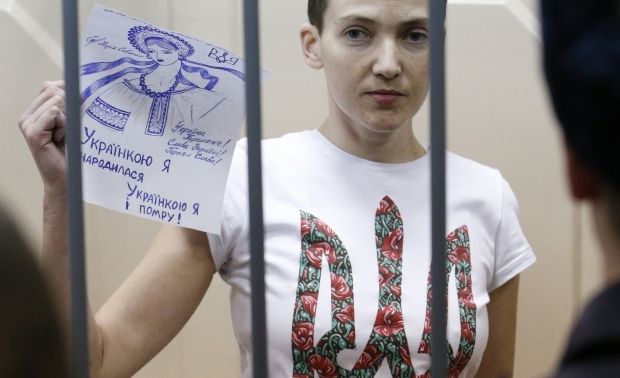 REUTERS
Savchenko has been on hunger strike for almost three months, demanding her return to Ukraine. Doctors say her current condition is stable.
Anatoliy Rudiy, first deputy head of the Federal Penitentiary Service, said that there were no pathological changes in Savchenko's state of health.
"Her weight is stable, and various indicators of her state are stable and acceptable... We're doing our best to control the situation. Almost every day we submit information about her state to the management service," he said.
As UNIAN reported earlier, Savchenko was abducted by Russian-backed militants in the Donbas in the summer of 2014, and then taken to Russia, where she was charged with being involved in the death of Russian journalists. She was also charged with illegally crossing into Russia.
On October 26, during the early parliamentary elections in Ukraine, Savchenko was elected as an MP from the Batkivshyna Party. The Verkhovna Rada made Savchenko a member of the Ukrainian delegation to the Parliamentary Assembly of the Council of Europe.
The Rada has called on international organizations and inter-parliamentary assemblies to make efforts to free Savchenko.
Savchenko went on hunger strike on December 15 in protest at being denied medicines she required. She is now demanding that she be released from jail and placed in another form of detention pending her trial.
In late January, Russian investigators said they had opened a new criminal case against Savchenko - on illegally crossing the border into Russia.
On February 10, Moscow's Basmanniy court extended the term of Savchenko's arrest until May 13.
On February 25, Moscow City Court upheld the extension of Savchenko's arrest until May 13.
If you see a spelling error on our site, select it and press Ctrl+Enter