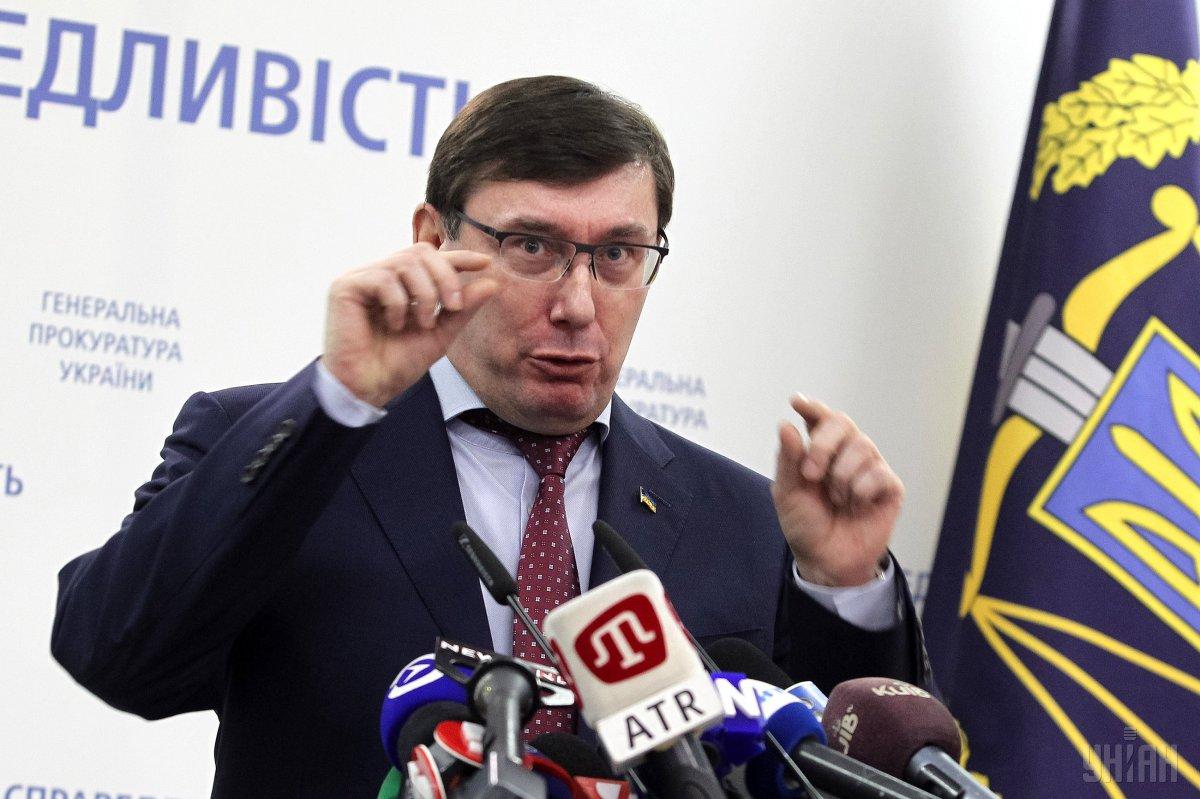 Photo from UNIAN
Ukrainian Prosecutor General Yuriy Lutsenko has commented on a court decision to release from custody MP Nadiia Savchenko and former hostage swap mediator Volodymyr Ruban, who had been charged with a coup and terror plot.
"The Savchenko-Ruban case was forwarded to court with an indictment on January 28, 2019. Therefore, we could say that yesterday's decision (or rather its absence) on the preventive measure pending trial is the court's exclusive competence. But we are forced to admit following a number of recent high-profile court rulings where suspects in murder and terrorism avoided arrest that our judicial system is seriously ill," Lutsenko wrote on Facebook.
According to the prosecutor general, the first reason for this is the law-permitted manipulation with constant changes of defense teams.
"Savchenko had eight such paid lawyers and another one provided by the state free of charge (they would enter the trial and then withdraw). The bill to eliminate these abuses has long been submitted to the Verkhovna Rada," he said.
Lutsenko said the second reason is a critically small number of judges in courts.
Read alsoBoth suspects in coup, terrorism case released from courtroom as judges fail to extend restrictive measure on time
"40% of vacant positions leads to the fact that even a single judge's disqualification leads to the transfer of the case to another court. A 'football-like' change of courts in the Savchenko-Ruban case with a roundabout of withdrawals at each stage is impressive: Supreme Court – Chernihiv District Court – Chernihiv Court of Appeal – Supreme Court – Solomensky District Court of Kyiv – Kyiv Court of Appeal – Supreme Court – Kyiv Court of Appeal – Darnitsky District Court of Kyiv – Kyiv Court of Appeal – Brovary City District Court of Kyiv Region," he said.
The third reason is the unwillingness of some judges to do their job, Lutsenko said.
"Recuses can hardly be called anything but self-elimination as they were made only because one of the judge's relatives lives in the occupied territory," he said.
"Finally, the main thing is that the release from custody at a preparatory court hearing does not mean the charges have been dropped. The Prosecutor General's Office insists on the sufficiency of evidence proving that Savchenko and Ruban had committed crimes. I am sure the delivery of heavy weapons from the so-called 'Donetsk People's Republic' for the shelling of the Ukrainian capital will not go unpunished," Lutsenko added.
As UNIAN reported earlier, MP Savchenko, along with and Ruban who was detained on the line of demarcation with an arsenal of weapons on March 8, 2018, is suspected of plotting terrorist attacks at government headquarters in Kyiv and a coup d'etat.
Read alsoSavchenko intends to return to Rada session hall despite ongoing trial into coup, terrorist plot
On March 22, 2018, the Verkhovna Rada agreed to allow bringing MP Savchenko to criminal responsibility, to have her detained and taken into custody. Savchenko and Ruban were arrested.
The case being re-forwarded multiple times was due to the courts satisfying the defense's motions challenging boards of judges.
UNIAN memo. Nadiia Savchenko is a former Ukrainian pilot who was in 2014 captured in Donbas by pro-Russian militants and handed over to Russian authorities who charged her with complicity in the murder of Russian journalists in the warzone.
After she was sentenced to a 22-year prison term in Russia, an enormous joint effort by Ukrainian authorities and international community allowed for her release and return in exchange for two Russian GRU operatives Yevegeny Yerofeev and Alexander Alexandrov who had been detained in Donbas and claimed they were "lost."
Her defiance of Russia's sham trial and firm public stance won her praise among Ukrainians. However, Upon her return to Ukraine, the process of her de-heroization hit warp speed and there came major disappointment. "Perhaps, there is a demand for a messiah in the Ukrainian society, some hero who would come and magically save Ukrainians," wrote UNIAN's correspondent in Moscow Roman Tsymbaliuk.
Some 36% of respondents in a poll set up by the 24 TV channel at the time of her triumphant return to Ukraine in May 2015 wanted to see her as their country's president. She received highest state awards and got to parliament as a Batkivshchyna party member (she later abandoned the party). However, after a series of bizarre moves, including meetings with pro-Russian terrorists and calls for direct talks with Russia puppet "authorities" in Donbas, which played along Moscow's line on Ukraine, in August of the same year, her public support ratings fell to just 4%.