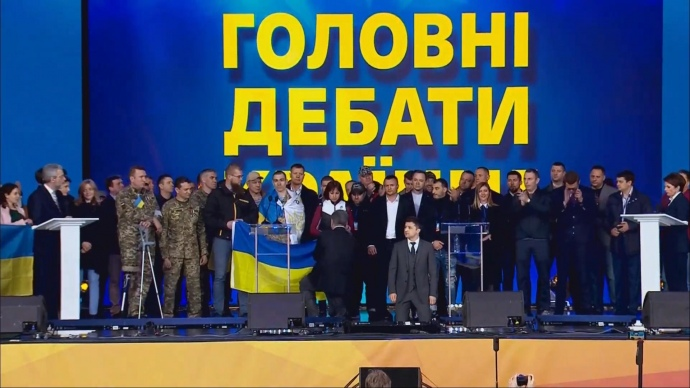 Screenshot
Ukrainian presidential candidates Volodymyr Zelensky and Petro Poroshenko have knelt to commemorate Ukrainians killed during the war with the Russian Federation in Donbas.
According to an UNIAN correspondent, Zelensky was first to kneel while facing those who came to the Olimpiysky Stadium in Kyiv on Friday evening to watch the debate between the two candidates. In turn, Poroshenko turned with his back to the audience, knelt and kissed the national flag of Ukraine.
Prior to that, Poroshenko told Zelensky: "Defending the state doesn't require crawling on knees before [Russian President Vladimir] Putin." This was an allusion to Zelensky's old address to Putin.
Read alsoZelensky on "visa-free, Tomos, language, army:" Achievements of Ukrainians not Poroshenko only
Zelensky, in turn, explained: "As for kneeling: the words were taken out of context. When the war began, before the beginning of the war when our people were already on the Maidan [Kyiv's Independence Square], our Ukrainians were dead, I addressed each of the presidents. I turned to [the then Ukrainian President Viktor] Yanukovych and said: 'Please leave, resign, calm down.' Then I said, it all was in one speech ... I appealed to Putin and said: 'I am ready to kneel, but do not bring Ukraine on its knees.'"
"[This is] about the knees, so that everyone sees what I meant. It seems to me every intelligent person understands this. I am now ready to kneel before any mother who waited but never saw her son come back from the war. I am ready and will now go down on my knees before every child who waited but never saw his father return, I am ready to kneel before every woman who waited but never saw her husband return, and I am inviting you [to follow me]," Zelensky said.