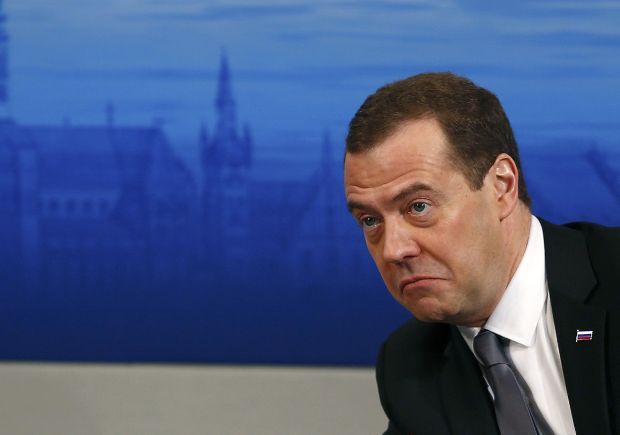 REUTERS
Russian Prime Minister Dmitry Medvedev says that following the election of Volodymyr Zelensky as president of Ukraine, there will be a "chance" of improving interaction of the two countries.
"The Ukraine election has been held. The result has shown an explicit demand for new approaches in addressing Ukraine's issues. Obviously, the new president will face the task of consolidating the country, taking into account the realities that have emerged in recent years," he wrote on Facebook on April 22.
"I have no doubt: the new head of state – with regard to Russia – will adhere to the rhetoric he used during campaign. That is, to repeat well-known ideological formulas targeting various groups of the population. I harbor no illusions about this. At the same time, there are still chances for better interaction with our country," the Russian prime minister added.
Read alsoMajor shift of political axis: Expert on expectations from Zelensky
According to Medvedev, this requires "honesty," as well as a pragmatic and responsible approach.
"An approach that takes into account all of Ukraine's political realities, primarily including the situation in the east of the country. Therefore, the main thing we should wish the new Ukrainian leadership is sanity. And, of course, an understanding of the deep value of relations between the peoples of our countries, which should be above the political situation," he said.
The Russian official added that only on such a basis is it possible to revive economic interaction that was earlier "killed." This means "solving the most difficult social problems that are so acute for millions of Ukrainians today," according to Medvedev.
Read alsoFinal voter turnout in Ukraine at 62%
As UNIAN reported earlier, on April 21, the second round of presidential elections was held in Ukraine. Leader of the Sluha Narodu (Servant of the People) Party Volodymyr Zelensky and incumbent president Petro Poroshenko were running for the presidency. According to the National Exit Poll, 73.2% of voters supported Zelensky, which was a record high over Ukraine's independence, while 25.3% voted for Poroshenko. The president has already admitted his defeat and congratulated Zelensky on the victory.
The Central Election Commission has processed almost 98% of the protocols from the precinct election commissions on the results of voting in the second round of the presidential elections. Volodymyr Zelensky received 73.15% of the votes, while his opponent, incumbent head of state Petro Poroshenko, saw support of 24.53%.