US analysts say Russia may try to occupy whole of left bank Ukraine
Russia may not only continue to support the militants in Ukraine's Donbas region, but also attempt to occupy the whole of the east of Ukraine up to the eastern banks of the Dnipro River, U.S. analysts have claimed in a new report.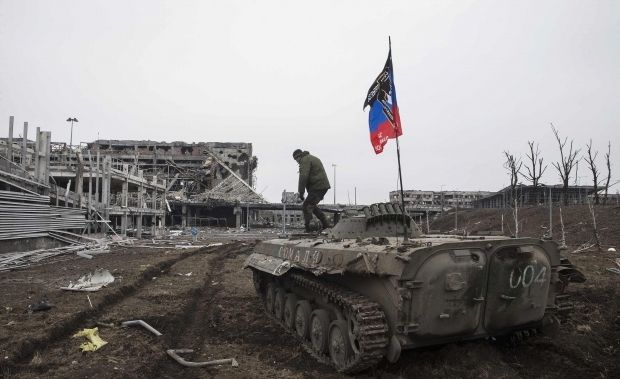 REUTERS
The claim was made in an analysis conducted by Stratfor, a U.S. geopolitical intelligence firm that provides strategic analysis and forecasting to individuals and organizations around the world, Ukrainian newspaper Ukrainska Pravda has reported.
Stratfor's analysts believe that Russia could launch a series of short strikes in the east of Ukraine designed to intimidate and immobilize the Ukrainian military command.
"However, such a move would likely be used in conjunction with any future military actions by Russia or pro-Russia separatists," the report reads.
Another limited option is a small expansion of current separatist lines to the north, incorporating the remainder of Donetsk and Luhansk regions, while one of the most frequently discussed scenarios is the unification of the occupied territories of Donbass and the Crimea along the south coast of the Black Sea.
For this scenario it is assumed there would be an offensive front broad enough to secure Crimea's primary water supply, sourced from the Dnipro river.
"In conducting such an offensive, an initial thrust would move forces rapidly through Ukraine toward the city of Kherson and Nova Kakhovka on the Dnipro River, where they would set up defensive positions," Stratfor said.
One of the potential constraints to this scenario is the fact that lines of supply would extend along a thin stretch of land, which could be difficult to defend.
Therefore, another possible scenario considered by the US analysts involves Russia seizing the entire southern coast of Ukraine to connect Russia and its security forces to the breakaway region of Transdniestria in Moldova.
Thus Ukraine would be completely cut off from the sea, thereby securing all Russian interests in this region. However, this would require carrying out "a complicated and dangerous bridging operation over a large river, with an extended and vulnerable logistics train," the U.S. experts noted.
To avoid possible risks of its forces being cut off from their supply sources, Russia may alternatively try to grab a large chunk of eastern Ukraine, including Kharkiv, Dnipropetrovsk and Zaporizhzhia, while the last scenario considered by Stratfor sees Russia capturing the whole of the "left bank" of Ukraine.
However, analysts say, this would require a significant number of Russian troops in the eastern Ukraine, many of whom would be required to suppress a possible Ukrainian insurgency in areas of Kyiv, Kharkiv and Dnipropetrovsk.
The report by Stratfor can be found here.
If you see a spelling error on our site, select it and press Ctrl+Enter