Klimkin announces next meeting of NSDC
The next meeting of Ukraine's National Security and Defense Council will take place in the coming days to consider steps to be taken to implement the Minsk agreements, Ukrainian Foreign Minister Pavlo Klimkin said on Tuesday after a meeting in the presidential administration headed by Ukrainian President Petro Poroshenko, according to an UNIAN correspondent.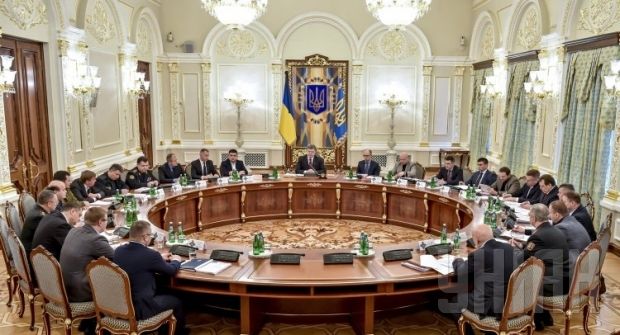 UNIAN
"The meeting headed by the president of Ukraine has just finished, [and] the main topic on [its] agenda was to discuss the progress and logic of the Minsk agreements," Klimkin said.
"The General Staff has said that the Ukrainian armed forces are complying with the Minsk agreements in accordance with the principles of international law and the requirements of the OSCE. We've done it very clearly, openly and transparently."
According to Klimkin, it was also said that the representatives of the self-proclaimed Donetsk and Luhansk People's Republics constantly denied access to the OSCE special monitoring mission to monitor the process of the withdrawal of weapons, thus nulifying a significant part of the process.
"We are fully committed to the Minsk agreements, and we are fully devoted to all of the logic and comprehensive implementation of the Minsk agreements. However, this process must be fully monitored by the OSCE mission, and each step must be evaluated by the international community," Klimkin said.
As UNIAN reported earlier, Poroshenko said that a meeting of the war cabinet would take place on March 10.
"On Tuesday, March 10, I will hold the meeting of the war cabinet, and we will take very important decisions," he said.
On February 18, during the meeting of the National Security and Defense Council Poroshenko proposed to establish a war cabinet.
National Security and Defense Council Secretary Oleksandr Turchynov said that the war cabinet would include the leadership of the country and the heads of the security services.
If you see a spelling error on our site, select it and press Ctrl+Enter