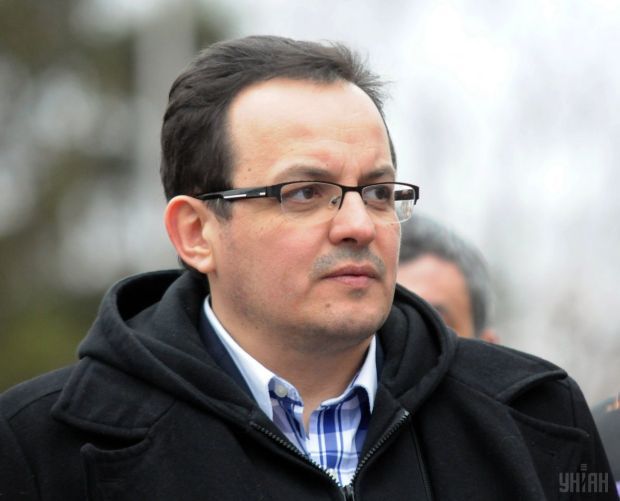 Berezyuk elaborated on the issues discussed with Zelensky in parliament / Photo from UNIAN
Members of Parliament (MPs) representing Ukraine's parliamentary factions and President-elect Volodmyr Zelensky have discussed his inauguration, foreign and domestic policy, including the possibility of disbanding the Verkhovna Rada, Ukraine's parliament, and the adoption of new election laws.
The meeting took place in the parliament's building on Saturday, May 4, leader of the Samopomich parliamentary faction Oleh Berezyuk told journalists after the event, according to an UNIAN correspondent.
Read alsoUkraine's President-elect: Date for presidential inauguration to be known on May 14
He outlined the issues discussed at the meeting with Zelensky, namely the newly elected president's vision of foreign and domestic policy, relations with parliament, in particular, "the possibility of disbanding parliament," as well as the adoption of new election legislation and the abolition of [parliamentary] immunity."
The lawmaker recalled that Zelensky had proposed his inauguration date for May 19.
"I personally do not see any problems in this. The sooner the president starts working, the sooner he takes responsibility for what he has promised," Berezyuk said, adding that the parliament "will formalize this proposal next plenary week."
"The faction will also formally take a decision," he added.
He expressed the hope that during the next plenary week lawmakers would decide on the date of inauguration.
"The fact that the newly elected president personally came to parliament and met with the leaders of the factions, discussing issues, is new in the history of the Ukrainian parliament and the leadership of the Ukrainian state," Berezyuk said.
Berezyuk said that outgoing President Petro Poroshenko was absent at the meeting, while the parliamentary factions were represented in part by the chairmen of the factions, and in part by their representatives.