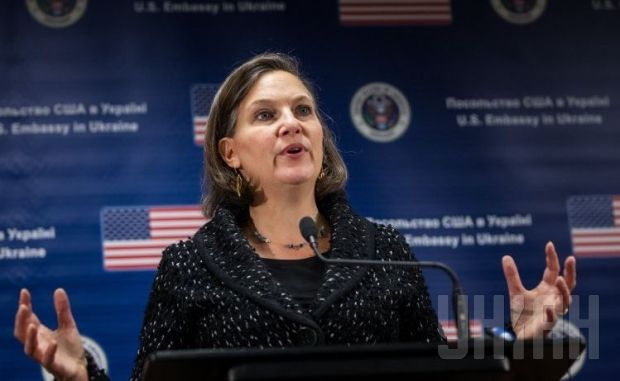 UNIAN
"While Ukraine is building a peaceful, independent, democratic state on 93% of its territory, Crimea and some parts of the east of Ukraine suffer under a reign of terror," she said.
Nuland accused Russia of unleashing an armed conflict that has taken thousands of lives.
"Today the Crimea is illegally occupied and the human rights violations are the norm rather than the exception, for many at-risk groups," she said.
According to Nuland, Crimean Tatars, Ukrainians, journalists, and those who refused to give up their Ukrainian passports are under threat of prosecution.
"In the east of Ukraine, Russia and its separatist puppets have unleashed a campaign of unprecedented violence and looting," Nuland said.
"The conflict in the east of Ukraine is fabricated, it is controlled by the Kremlin and fed by the deliveries of Russian tanks and heavy weapons, and it is funded at the expense of Russian taxpayers," she said.
"In addition, this conflict has already taken not only the lives of more than six thousand Ukrainians, but hundreds of young Russians who were sent to fight," Nuland added.