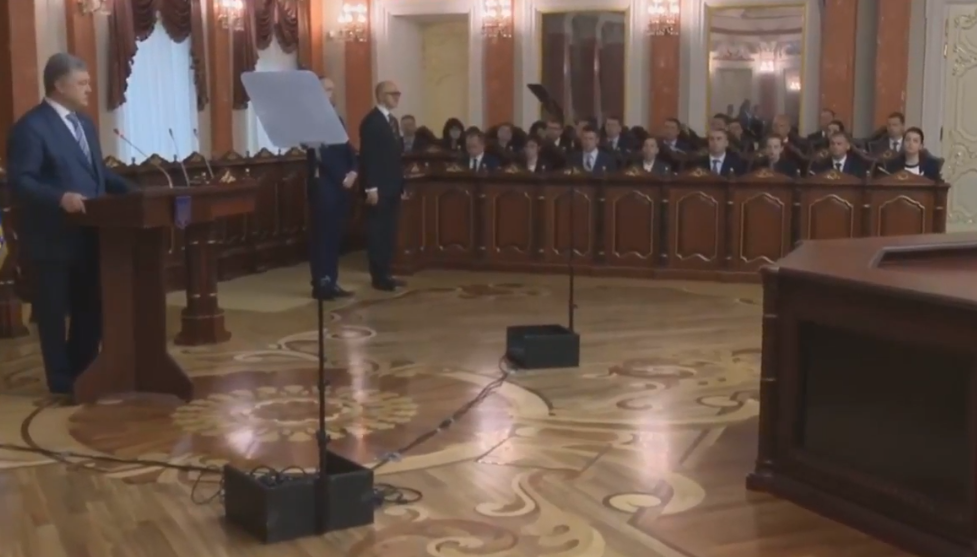 Snap from video
Outgoing Ukrainian President Petro Poroshenko has appointed 75 judges of the Supreme Court of Ukraine.
The official ceremony of the judges' oath was streamed live on Poroshenko's Facebook page.
The text of the decree was read out by Deputy Head of the Presidential Administration Oleksiy Filatov.
Read alsoUkraine launches High Anti-Corruption Court
According to the document, Poroshenko appointed 25 judges to the Administrative Cassation Court, 15 judges to the Commercial Cassation Court, 13 judges to the Criminal Cassation Court, and 22 judges to the Civil Cassation Court.
After that, the official ceremony of the oath of the judges who were appointed to the posts for the first time took place.
Before the start of the ceremony, Poroshenko said the Supreme Court would work almost in full assembly starting from May 7.
In his words, the court makes decisions every day, including those related to the president, government, parliament.
"Today, the Supreme Court is a model for other courts in terms of openness and communication with journalists, society, and the language of court decisions. Yes, judicial decisions can and should be easy to understand for a person without a degree in law," the president said.
According to Poroshenko, the Supreme Court has really made extraordinary progress for 18 months of its work, and this pace was super-fast.
"That is why, I emphasize, we have positive results. The Supreme Court is an example for the judicial system both in terms of the content of decisions and intensity of work," Poroshenko added.
The president stressed the courts should address multiple tasks.
"A considerable number of them lie on the shoulders of the judges of the Supreme Court. This is ensuring the unity and predictability of judicial practice, and the completion of the consideration of thousands of cases whose rulings are expected by our citizens. And, above all, this is the protection of the rights and freedoms of citizens – an ordinary person who came to court to seek protection and justice. And the Supreme Court is the last and the main frontier of the rule of law in our country," the president said.
Poroshenko wished the judges success in being worthy of the judge's title, humane and fair.
"Only this way we will build a fair, law-based Ukraine, where law is one for all and the most important thing," Poroshenko said.
UNIAN memo. On September 30, 2016, Ukraine launched a judicial reform with the entry into force of amendments to the Constitution's provisions on justice and the law on the judicial system and status of judges. According to these amendments, the Supreme Court became the highest court in Ukraine, and its composition was formed of judges elected solely via an open competition.
On November 10, 2017, the president appointed judges of the renewed Supreme Court. On November 11, the judges took the oath.
On December 15, 2017, the new Supreme Court began work.