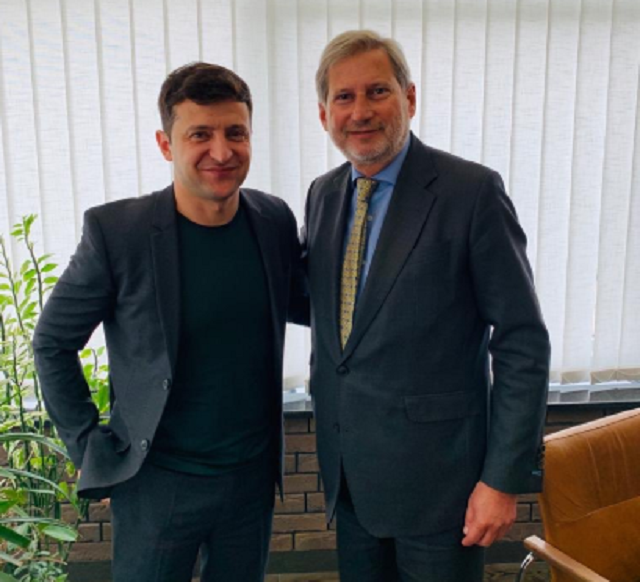 twitter.com/JHahnEU
Ukraine's President-elect Volodymyr Zelensky met with European Commissioner for European Neighborhood Policy and Enlargement Negotiations Johannes Hahn in Kyiv on Tuesday, May 7.
During the meeting, Zelensky named his priorities defeating corruption, de-monopolization in the energy sector and de-oligarchization in the media, Zelensky's press service reported.
"Our priority is not fighting corruption, but defeating it. De-monopolization in the energy sector, de-oligarchization in the media," Zelensky said.
According to the report, the president-elect assured the European Commissioner that "our European choice remains uncontested", and announced readiness to restore criminal liability for illegal enrichment. "As guarantor of the Constitution, I will defend the path the citizens of Ukraine chose at the elections," Zelensky's press service quoted him as saying.
Read alsoZelensky's adviser Danyliuk, U.S. Energy Secretary discuss Ukraine's energy independence
Also today, Hahn was received by Prime Minister Volodymyr Groysman, who said European integration remained top priority both for Ukraine and the government – along with continued reforms and promoting changes in the state's legal and judicial systems.
UNIAN memo. In 2014, the European Union and Ukraine signed the Association Agreement, which marked the beginning of a new period in the development of relations between the EU and Ukraine.
The Agreement is the main instrument for ensuring Ukraine's rapprochement with the EU: it contributes to the deepening of political relations, stronger economic ties and mutual respect for common values. The economic part of the agreement, on a deep and comprehensive free trade area (DCFTA), provides Ukraine with an opportunity to expand trade relations and economic development, since it opens up new markets, contributes to harmonizing legislation, standards, and regulations in various sectors. The latter will help Ukraine integrate EU standards into key sectors of the economy.