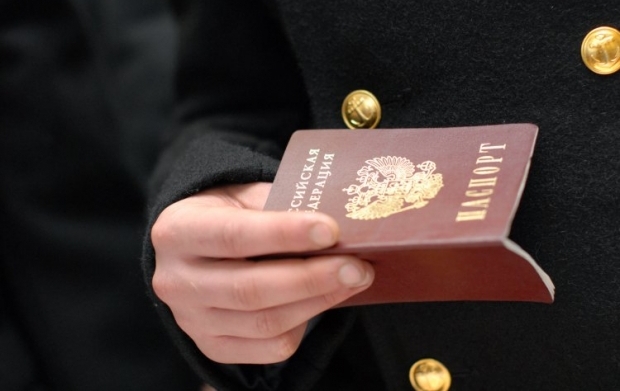 Photo from UNIAN
Ukrainian Prime Minister Volodymyr Groysman has said Ukraine will not recognize fake Russian passports issued to residents of the occupied Ukrainian territories, namely Luhansk and Donetsk regions, and calls on the international community not to recognize these documents as well.
"Another step recently made by Russia is the issuance of fake passports to Ukrainian citizens. We understand this is a violation of all norms. We will never recognize the citizenship granted by the aggressor country. We have our Ukrainian passport which we are proud of and which is a symbol of freedom and democracy," Groysman said at a government meeting on Wednesday, according to the Government portal.
Read alsoKremlin mulling easier rules for granting temporary residence to Ukrainians in Russia
"We're passing a decision to designate all passports issued [by the Russian Federation] to Ukrainian citizens in our territory as violation of law. These passports will be considered illegal – when used for crossing the state border and used in the territory of the state. This will be our response to Russia's hybrid action. And we will urge all the partner countries to take the same decision to make such fake passports null and void on the borders of other countries," the prime minister said.
He emphasized such a measure had been formalized in the government's decision, aiming to draw international attention to Russia's repeated violations of international law as part of its "hybrid war against Ukraine and the entire civilized world."
As UNIAN reported earlier, Russian President Vladimir Putin on April 24 signed a decree on the expedited procedure for the issue of Russian passports to residents of temporarily occupied Donbas. On April 27, Putin said Russia could simplify the procedure for granting Russian citizenship to all Ukrainians – not only to those who reside in Russia-occupied districts in the east of Ukraine.
On April 29, a center opened in the town of Novoshakhtinsk in Rostov oblast offering services for issuing Russian passports to residents of Russia-occupied districts in Ukraine's Luhansk region. On April 30, a similar center opened in Rostov oblast's village of Pokrovskoye to service residents of the occupied Donetsk region.
On May 1, Putin signed a decree under which more categories of Ukrainian citizens will be able to obtain Russian citizenship with the use of the simplified procedure, in particular, these are citizens of Ukraine who do not have citizenship of another state, as well as stateless persons who were born and permanently resided in Crimea and left the peninsula before March 18, 2014, as well as their children, husbands (wives) and parents.
Ukraine's Ministry of Foreign Affairs resolutely demands that the Russian side immediately repeal all unlawful decisions regarding the issue of Russian passports to Ukrainian citizens and eliminate their negative consequences.