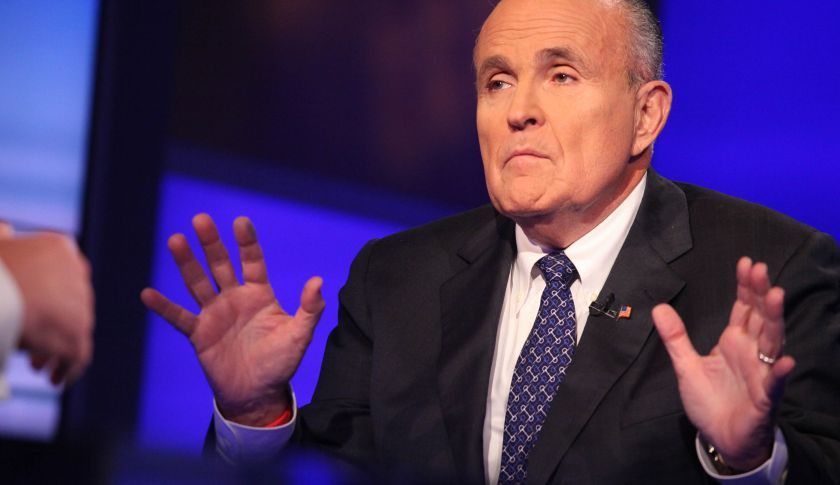 The Fortune
Dmytro Razumkov, a spokesman for Volodymyr Zelensky's headquarters, said that it was from media reports that the president-elect learned about the plans of Donald Trump's attorney Rudy Giuliani to arrive in Ukraine.
"The fact that Rudolph Giuliani Zelensky was set to arrive was something Zelensky learned from the media, and the fact that he's not coming was also something he learned from the media. That is why the reports that emerged in the U.S. media claiming someone from the team gave some comments on certain pitfalls surprises me. This is not true. Let us hope that this misunderstanding will be settled in the relations between Team Zelensky and U.S. representatives," the representative of Zelensky's headquarters told ICTV, according to Ukrayinska Pravda.
When asked if someone from the Team Zelensky was working on settling the issue, Razumkov replied:
Read alsoZelensky being pulled into domestic political conflict in U.S. – media
"I think such issues should remain confidential, this is No. 1, and No. 2 is Zelensky is ready to hold such meetings not only with official representatives of the United States, but also with representatives of certain political forces or those not affiliated with politics who will be interested in further deepening relations between the two countries, those with a positive attitude, helping us in our struggle for independence."
As UNIAN reported earlier, The New York Times said Giuliani, who had intended to arrive in Kyiv and meet with President-elect Volodymyr Zelensky, called off the visit amid harsh criticism of such intention. He was accused of seeking help abroad for Donald Trump's re-election campaign in 2020.
In turn, Giuliani accused the Democrats of trying to distort the purpose of the trip. Earlier, The New York Times reported that Giuliani had allegedly intended to call on Zelensky to continue to investigate in Ukraine cases that, according to White House allies, could shed more light on the two issues in which Trump was interested.
Read alsoGiuliani cancels Ukraine trip, says he'd be 'walking into group of people that are enemies of U.S.' – NYT
One of these issues concerns the investigation of Special Counsel Robert Mueller regarding Russian meddling in the 2016 presidential election. Another one concerns the son of former U.S. Vice President Joseph Biden. Hunter Biden was a member of the board of directors of a gas company owned by Ukrainian businessman Mykola Zlochevsky, Burisma Holdings Limited.
The publication noted that the goal of Giuliani's trip to Kyiv was to tar Mueller's investigation and potentially harm Joseph Biden, who is now seen as the Democrats' favorite for presidential nomination.