Miltiant leaders call on Merkel and Hollande to 'put pressure on Kyiv to fulfill Minsk deal'
The leaders of the self-proclaimed Luhansk and Donetsk People's Republics, Ihor Plotnytkiy and Oleksandr Zakharchenko, have urged French President François Hollande and German Chancellor Angela Merkel to "put pressure" on Kyiv to fulfill the Minsk agreements, the BBC's Russian Service reported on Friday.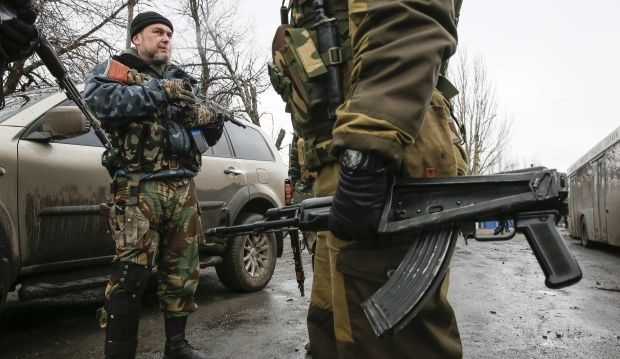 REUTERS
"We have to address you, as the guarantors of the Minsk agreements, to put pressure on the Ukrainian government, up to the introduction of personal and economic sanctions in order to force its leadership to implement a set of measures approved by the Tripartite Contact Group on February 12 in Minsk with your active participation," the statement says.
According to the leaders of the militants, the Ukrainian authorities are disrupting the schedule of the withdrawal of heavy weapons.
In addition, Plotnytkiy and Zakharchenko asked the leaders of two European countries to deny entry to the EU countries of a number of Ukrainian leaders, including Ukrainian Prime Minister Arseniy Yatseniuk, Defense Minister Stepan Poltorak and NSDC Secretary Oleksndr Turchynov.
As UNIAN reported earlier, on February 12, Ukrainian President Petro Poroshenko, Russian President Vladimir Putin, German Chancellor Angela Merkel and French President François Hollande held talks in Minsk to resolve the conflict in the Donbas.
Following the talks, the parties approved a package of measures aimed at the implementation of the Minsk agreements of September. In addition, the leaders of Ukraine, France, Germany and the Russian Federation adopted a declaration in support of these measures.
In addition to other provisions of the new agreements reached by the "Normandy Four" leaders on Thursday, February 12, the parties agreed on a ceasefire to be effective from 0001, February 15, as well as the withdrawal of all heavy weapons. The agreements also provide for the release and exchange of all prisoners.
Despite the fact that a ceasefire was supposed to come into force, the militants have continued to attack the positions of the Ukrainian armed forces throughout the territory of the Donbas, Ukraine's military says.
The headquarters of the Anti-Terrorist Operation reports that Ukraine has already carried out four stages of the withdrawal of heavy weapons.
However, it has said the Ukrainian armed forces will not withdraw all their weapons from the demarcation line until they are sure the Russian-backed militants have also pulled back theirs.
If you see a spelling error on our site, select it and press Ctrl+Enter