Survey: most Ukrainians support concessions for the sake of ending war
One third of Ukrainians aged over 16 years think that in order to stop the bloodshed in the Donbas the Ukrainian authorities should be ready to make concessions, according to a poll carried out by Ukrainian research company GfK Ukraine in February 2015.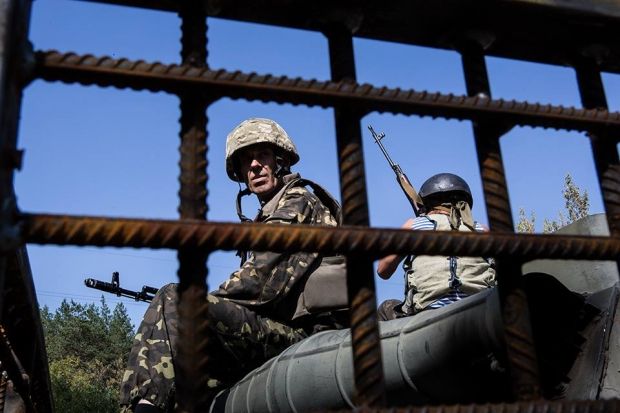 Photo from facebook.com/iv.bogdan
A third of respondents over the age of 16 years (32%) said that the authorities have to make all necessary concessions to stop the bloodshed.
Some 29% of respondents believe that negotiations are possible and certain concessions could be made, if appropriate. Another 21% of respondents believe that the government should not make any concessions, and it needs to mobilize the population to seek help from the West and free the Donbas by military means. At the same time 18% could not answer the question.
Among residents of Kyiv and the central regions there is an opinion that negotiations are possible and certain concessions can be made - if they are appropriate (44% of Kyiv region residents and 36% of central region residents). But almost as many, 42% and 34%, respectively, would oppose any concessions from the government, supporting further mobilization of the population and assistance from the West in order to free the Donbas by military means.
At the same time the residents of the south and east say the authorities should make all the necessary concessions to stop the bloodshed (44% and 54%).
When asked to outline the concessions the Ukrainian authorities should make to stop the war in the Donbas, 21% of respondents support granting the territories controlled by the DNR and the LNR a special status for a certain period with partial control from Kyiv (as stipulated in the Minsk Agreement). Another opinions most frequently voiced by the respondents are recognition of the Russian language as the second official language in the territory of Ukraine (12%) and a refusal to join NATO while providing a constitutional guarantee of Ukraine's neutrality (11%).
The survey was conducted by GfK Ukraine during February 2-15, 2015 by means of personal interviews at the homes of respondents. 1,000 people aged above 16 years in all regions of Ukraine (including the Kyiv region), except for the Autonomous Republic of Crimea, took part in the survey. In Donetsk and Luhansk regions the survey was conducted only in the areas controlled by the Ukrainian authorities. The survey is prepared with a representative sample by gender, age, region and size of the settlement. Statistical deviation does not exceed 3.1%.
If you see a spelling error on our site, select it and press Ctrl+Enter