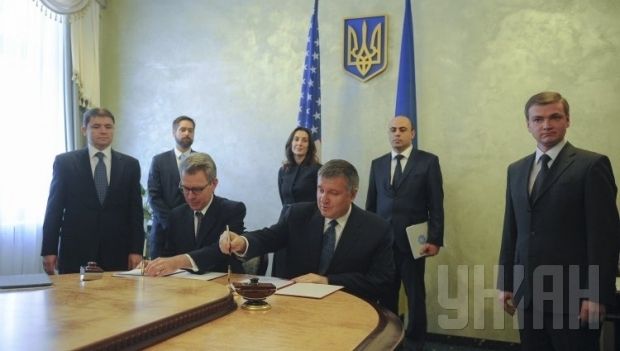 Pyatt and Avakov signed agreement on aid for Ukrainian law-enforcers / Photo from UNIAN
Pyatt announced this after the signing of the document, an UNIAN correspondent reported.
Both countries will cooperate in creating a government in Ukraine that would be free from corruption, respect human rights and realize the Ukrainian people's expectations, the ambassador said.
According to him, Ukraine is presently fighting on two fronts: on the one hand, this is an inner front where it is rooting out corruption and building a new society, on the other hand, this is war with Russia in Donbas.
In this connection, the ambassador said, the signed agreement is designed to help Ukraine succeed in reforms.
The agreement will serve as the formal ground for joint work in the fight against corruption. Particular attention will be paid to interaction with the Ukrainian Prosecutor General's Office.
The U.S. Department of Justice and the FBI are ready to work with the new team of the Prosecutor General's Office, the ambassador said. The U.S. is also looking forward to the beginning of the Anti-Corruption Bureau's work in Ukraine, he added.
The signed agreement is also designed to bolster cooperation with Ukrainian border guards. The allocated funding will be funneled into improving their mobility and technical capabilities, including war on terrorism, and will help Ukraine reinforce its borders.