Poroshenko: Ukraine will immediately get lethal weapons with new round of Russian aggression
Ukrainian President Petro Poroshenko says that if there is a new round of Russian aggression, Ukraine will immediately get lethal weapons.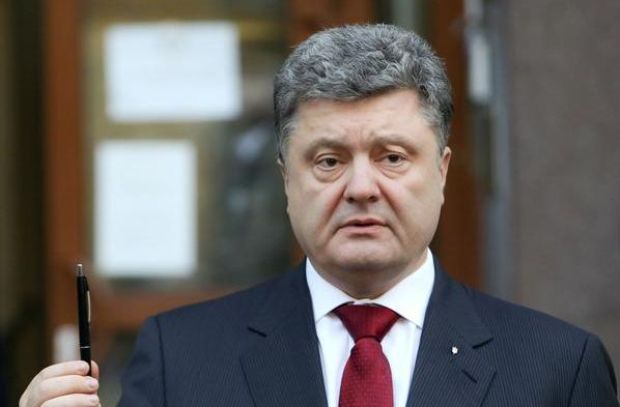 Ukrainian President Petro Poroshenko / Photo from @poroshenko
He announced this in an exclusive interview on 1+1 TV Channel, the presidential press service reported.
"If there is a new round of aggression against Ukraine, I can surely say that we will immediately receive both lethal weaponry and new wave of sanctions against the aggressor. We will act firmly and in a coordinated manner," the president told 1+1 TV Channel.
Poroshenko says he is confident that the European Union, the United States and other countries will continue supporting Ukraine in its struggle for sovereignty and territorial integrity, inter alia, with weapons in case of need.
The president said that Ukraine had contracts with some EU countries on the supply of weapons, including lethal ones. He said that the official embargo of the EU on arming Ukraine had been lifted.
Poroshenko described a decision by U.S. President Barack Obama to supply defensive weapons to Ukraine as crucial. According to him, this armament will increase preciseness and efficiency of the Ukrainian weapons. In addition, thermal imagers and radars that detect motion help counteract reconnaissance and subversive groups of the enemy.
"What is the difference between Ukraine's and Russia's positions? Ukraine is trustworthy, for it clearly and steadily fulfills all the undertaken agreements," Poroshenko said. He also stressed that Ukraine had promised to cease fire and withdraw heavy artillery and our country had fulfilled that.
At the same time, the president noted that Ukraine would not decrease its defense capacity. "We are using this time to repair damaged equipment. Currently, intensive combat training is being held. We are planting mines in the most dangerous tank directions and building engineering structures under the new plan and projects," he added.
The interview was broadcast by 1+1 TV Channel on Friday night.
If you see a spelling error on our site, select it and press Ctrl+Enter