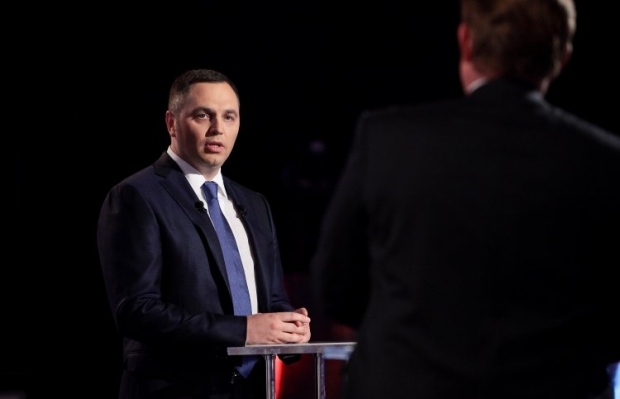 Photo from UNIAN
Former deputy head of the Viktor Yanukovych Presidential Administration Andriy Portnov, who returned to Ukraine on May 19, 2019, says he is going to sue outgoing President Petro Poroshenko and his allies.
"The first that should be addressed is what Ukrainian society is most concerned about: embezzlement in the army, theft, making profit on those days when Ukrainian soldiers were dying at the front. We will show the picture in detail: how, for example, capitalization in Panama was on the rise on the days amid Ukrainian soldiers' deaths. We will deal with the most important and key issues. This includes [Kyiv-based shipyard] Leninska Kuznya, where Poroshenko himself bought military produce from himself, using budget money whose allocation from the national budget he approved through the [parliamentary] faction he controls – he himself allocated this money through the government and the Finance Ministry under his control and he himself spent it when buying [the produce] at inflated prices from Leninska Kuznya enterprise he controls," Portnov told the Strana publication in an exclusive interview upon return to Ukraine. "We'll have to check the deal that was struck by [Sergiy] Tigipko and Poroshenko allegedly for $300 million – this is an explicit act of money laundering. It was handled through offshore companies, and we already understand the whole chain."
"Therefore, if, based on our information, law enforcement agencies go to court, they can already seek the seizure of all assets of Poroshenko only on the basis of the first claim on Leninska Kuznya, then we will help in other jurisdictions – in Panama, the UK, the British Virgin Islands, Gibraltar, where Poroshenko's Spanish property registered," Portnov said.
Portnov's team has already conducted preparations and held consultations in Panama and the UK.
Portnov expects that Ukrainian courts will satisfy prosecutors' claims seeking Poroshenko's detention. He also considers it necessary to ensure the seizure of property owned by the outgoing president and his assets, including in offshore jurisdictions.
Portnov mentioned the following Poroshenko's allies to be held criminally liable: head of the Bloc of Petro Poroshenko faction in parliament Artur Gerasimov; head of the People's Front parliamentary faction Maksym Burbak; former deputy head of the Presidential Administration Oleksiy Filatov; MP Serhiy Pashynsky; as well as Poroshenko-affiliated officials who have own business.
Commenting on his relationship with the team of the new president, Portnov says he does not see himself in the system of government agencies under President Volodymyr Zelensky. Portnov also believes that the leaders of the SBU Security Service of Ukraine Vasyl Hrytsak and chief prosecutor Yuriy Lutsenko should be dismissed. According to Portnov, the new president has all the legal grounds for disbanding the Verkhovna Rada, Ukraine's parliament.
Andriy Portnov returned to Ukraine on May 19, 2019, after he left the country several years ago.
"Friends, I have been absent in my country for more than five years. And today I want to give a confident signal to the thousands of people who left Ukraine – it's time to return, build and rebuild. Hello, my dear Motherland!" Portnov wrote on his Telegram channel.