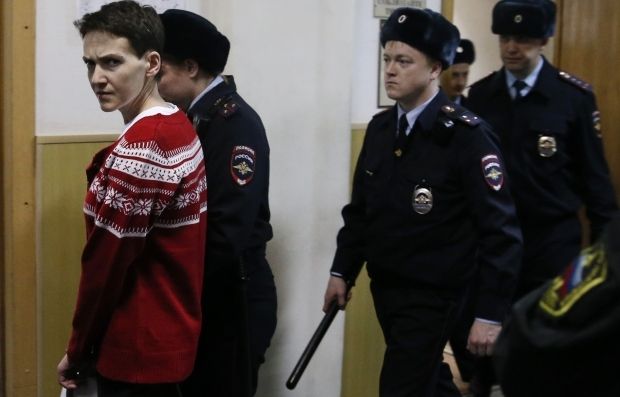 REUTERS
This was announced by Ukrainian doctors who were let in examine Savchenko imprisoned in Matrosskaya Tishina pre-trial detention facility No. 1, an UNIAN correspondent in Russia has reported.
"Getting out of starvation mode is always much more dangerous than even a certain period of starvation itself. This suggested serious challenges, which were our major concern when we were going here. At the moment she is in a relatively satisfactory condition. If it goes the way it does and we've jointly decided, then we hope that everything will be fine," deputy chief medical officer of Ukrainian Feofania hospital Andriy Strokan said.
Associate Member of the National Academy of Sciences of Ukraine Professor Natalia Kharchenko in turn said that there is no threat to Savchenko's life at the moment. "As a physician I see no threat to Nadia's life now amid current getting out of starvation if everything is done properly," she said.
According to Kharchenko, one of Ukrainian doctors' recommendations was that Nadia Savchenko should stay in hospital, under medical supervision with constant monitoring of her health during the entire period of getting out of starvation, which should have the same duration as the starvation itself –almost two months.
Kharchenko said that Savchenko had gained a couple of kilograms. "She's in a combative mood – she's an optimist and a fighter," Kharchenko added.
Ukrainian doctors spent more than five hours examining Savchenko in jail on Saturday. The day before the doctors were not allowed to visit the Ukrainian pilot.
Head of the consular department of Ukraine's Embassy in Russia Hennadiy Breskalenko said that the Saturday meeting had become possible thanks to Russia's Commissioner for Human Rights Ella Pamfilova.
As UNIAN reported earlier, Savchenko was abducted by Russian-backed militants in Donbas last summer, and then taken to Russia, where she was charged with being involved in the death of Russian journalists. Savchenko's defense claims she could not be involved in the journalists' death, as she had been captured before the accident.
In late January 2015, Russian investigators said they had opened a new criminal case against Savchenko – on illegally crossing the border into Russia.
On February 10, Moscow's Basmanny district court extended the term of Savchenko's arrest until May 13. On February 25, Moscow's city court upheld the extension.
Savchenko went on hunger strike on December 15, 2014. She partly broke her hunger strike on March 5, 2015, taking some chicken broth, and asked prison hospital doctors to draw her up a balanced diet to help her end her hunger strike, according to her lawyer Mark Feygin.