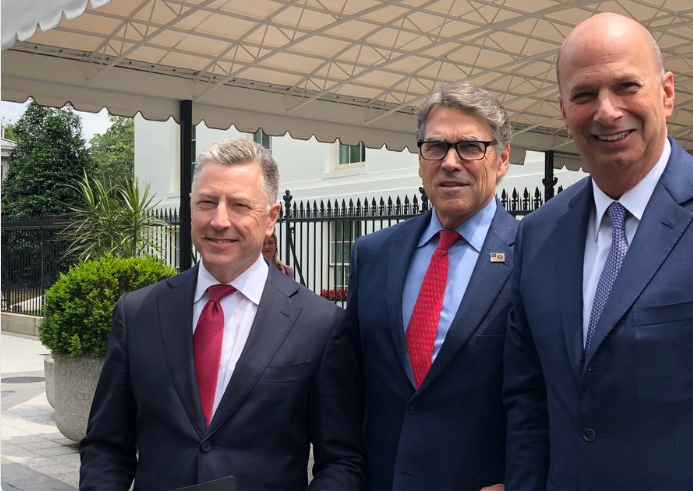 A U.S. delegation for Zelensky's inauguration was led by Secretary Perry / Photo from @SpecRepUkraine
U.S. Special Representative for Ukraine Negotiations Kurt Volker has briefed the Donald Trump Administration on his recent visit to attend new Ukrainian President Volodymyr Zelensky's swearing-in ceremony in Kyiv.
"Sec[retary] Perry, Amb[assador] Sondland, Senator Johnson, & I briefed @WhiteHouse on impressions from our trip to Ukraine for Pres[sident] Zelensky's inauguration. There is a window of opportunity to advance shared U.S.-Ukrainian interests," Volker said on Twitter on May 23.
Read alsoZelensky, U.S. envoys discuss reforms, counteraction to Russia's aggression
As UNIAN reported, a U.S. delegation for Zelensky's inauguration in Kyiv was led by U.S. Secretary of Energy Rick Perry. The delegation also included U.S. Ambassador to the EU Gordon Sondland, Director for European Affairs at the U.S. National Security Council Alexander Vindman, and Acting Deputy Chief of the U.S. Mission in Ukraine Joseph Pennington.
After the official event on May 20, the U.S. delegates met with Zelensky and his administration.