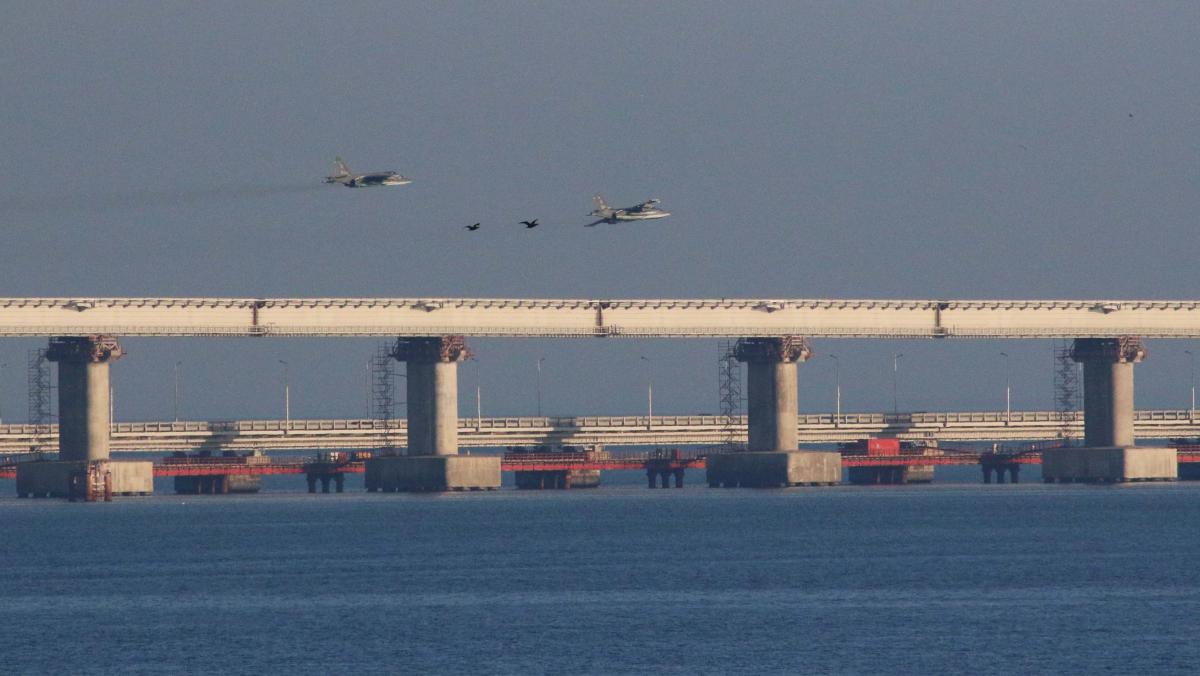 REUTERS
Ukraine's chief military prosecutor Anatoliy Matios has announced the court has permitted to detain 15 Russian military in a criminal case related to 24 Ukrainian sailors captured by Russia near the Kerch Strait in November 2018.
Read alsoITLOS obliges Russia to release 24 Ukrainian sailors
In particular, four Russian general admirals, nine officers and two soldiers were charged with committing a crime in the case conducted by Ukrainian military prosecutors, according to an infographic posted by Matios on his Facebook page.
UNIAN memo. On the morning of November 25, 2018, Russia blocked the passage to the Kerch Strait for the Ukrainian tugboat "Yany Kapu" and two armored naval boats "Berdyansk" and "Nikopol," which were on a scheduled re-deployment from the Black Sea port of Odesa to the Azov Sea port of Mariupol. The Ukraine Navy Command noted that the Russian side had been informed of the plans to re-deploy the vessels in advance in accordance with international standards to ensure the safety of navigation. The Russian coast guard ship "Don" rammed the Ukrainian tugboat, damaging the Ukrainian vessel. As the Ukrainian boats were heading back in the Odesa direction after being rejected passage via the Kerch Strait, Russian coast guards opened fire on them.
Read alsoZelensky: Russia's execution of ITLOS order to release Ukrainian sailors could be signal of readiness to end conflict with Ukraine
All 24 crew members on board were captured and later remanded in custody for two months, being charged with "illegal border crossing" (the sailors are facing up to six years in prison). Three crewmen were wounded in the attack. Russian-controlled "courts" in occupied Crimea ruled that all 24 detainees should be remanded in custody, after which they were transferred to the Moscow-based Lefortovo and Matrosskaya Tishina detention centers. Moscow's Lefortovo district court in the middle of January 2019 decided to keep the Ukrainian sailors in remand until the end of April 2019.
In April, their detention was extended until the end of August 2019.
On May 25, the International Tribunal for the Law of the Sea made public its decision obliging Russia to release three Ukrainian vessels and 24 Ukrainian sailors captured near the Kerch Strait and allow them to return to Ukraine. However, the Tribunal failed to satisfy Ukraine's motion to oblige the Russian Federation to stop criminal prosecution of captured Ukrainians.
According to the ITLOS document, Russia must inform the Tribunal no later than June 25 on the execution of the order to release Ukrainian sailors and vessels.
In turn, Russia's Foreign Ministry said that the UN maritime tribunal had no jurisdiction to consider Ukraine's claims to Russia regarding release of the captured sailors and naval vessels.