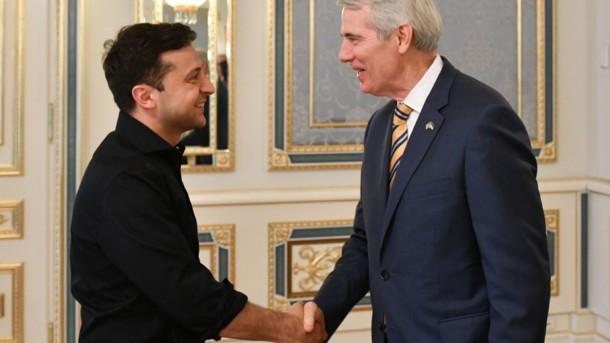 Presidential Administration
U.S. Senator Robert Portman (R-OH) has said he had a frank conversation with Ukrainian President Volodymyr Zelensky during his recent visit to Kyiv.
"[Volodymyr Zelensky] spoke frankly about the bravery of his troops but also about their needs, in terms of weapons systems and basic conditions," Senator Portman said a Senate floor June 5.
"We talked about Russian propaganda along the eastern border and efforts to jam Ukrainian TV signals to sow the seeds for dissension for the people of the Donbas region. We talked about some ideas that would help counter that propaganda, the jamming, and the disinformation, and I have already been in touch with the State Department about those ideas," said the senator.
Read alsoU.S. commits over US$1.1 bln since 2014 to help Ukraine defend itself – Embassy
He said he came away from the meeting with President Zelensky "impressed" and "encouraged."
"We had an open and detailed talk about how the United States can be helpful. I have already begun to talk to my colleagues on the Armed Services Committee and in the Trump Administration about those specifics and some of the requests that he had," Senator Portman added.