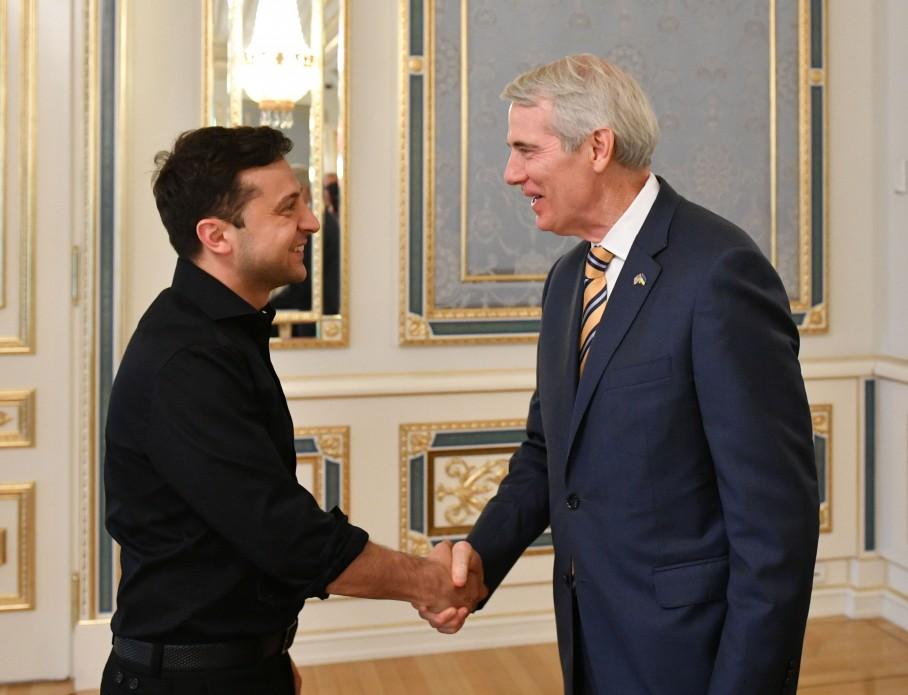 Portman met with Ukraine President Zelensky amid his visit to Kyiv / president.gov.ua
U.S. Senator Rob Portman (R-OH), the co-founder and co-chairman of the Senate Ukraine Caucus, says that Ukraine is ready to write the next chapter of its long history.
"So, my colleagues, I return from this brief trip to Ukraine hopeful. Hopeful that Ukraine is ready to write the next chapter of its long history, and it will be a chapter of freedom with a government and society that benefits all its citizens. And the United States of America must continue to be a good friend and ally in that quest. I am certainly determined to do my part to make it so," he said amid a Senate floor on June 5.
In Ukraine, the senator met with newly-elected Ukrainian President Volodymyr Zelensky and Chief of Staff of the Armed Forces Ruslan Khomchak.
Read alsoU.S. Senator Portman elaborates on "frank" conversation with Zelensky
They discussed Russian aggression in Crimea and in Donbas, as well as the release of 24 Ukrainian sailors from captivity.
"We also talked about the 24 Ukrainian sailors captured by the Russians last November 25 in the Kerch Strait in the Azov Sea. At that time, President Trump rightly refused to meet with President Putin at the G20 summit in Argentina until those sailors were freed. President Zelensky and I talked about how to keep the pressure on Moscow to do the right thing. I gave President Zelensky my commitment to do everything in our power here in the United States Senate to keep these 24 sailors front and center until the crisis is resolved. Recently, the United Nations issued a statement about these sailors, saying that they should be sent back to Ukraine, that their taking was wrong," Portman said.
Among other subjects were reforms in Ukraine and the fight against corruption.
"I told President Zelensky that he is now the face of reform in Ukraine and indeed for those of us watching around the world. He acknowledged that with a smile and said, 'I know.' He said that his commitment to reform is real, but he also had no illusions about how hard reform will be, and I am very hopeful he will have the continued courage to see it through, whether we are talking about fighting corruption, more transparency in government or civilian control of the military. He understands it is the only path forward and frankly a linchpin of the U.S. partnership with Ukraine, and as a matter of law, a condition of our future defense assistance," Portman said.
They also discussed the importance of the Ukrainian diaspora in the United States.
"Finally, we talked about the importance of the Ukrainian diaspora in the United States, about two million people strong, thousands of whom live in Ohio, my constituents, about how they are putting great hopes in his leadership and are willing to do all they can to help," he said.