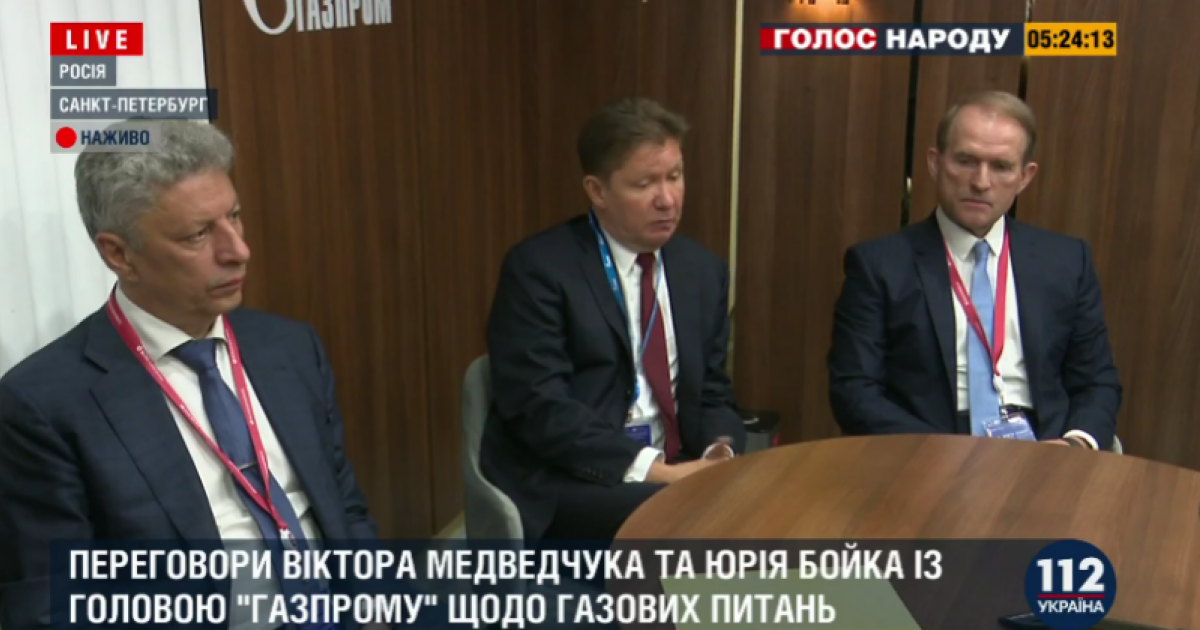 Snapshot
Leaders of the pro-Russian party "Opposition Platform – For Life" Yuriy Boyko and Viktor Medvedchuk (Russian President Vladimir Putin is a godfather of Medvedchuk's daughter) on Friday, June 7, arrived in St. Petersburg to meet with Gazprom CEO Alexei Miller.
The meeting was broadcast by 112 Ukraine TV Channel owned by Medvedchuk's ally Taras Kozak.
Boyko, Medvedchuk, and Miller discussed the gas issue, as Russia's Gazprom is willing to resume gas sales to Ukraine.
"Unreasonably great attention has recently been paid solely to the issue of extending the [gas] transit contract. In fact, the most important and significant issue is the conclusion of a direct contract for the supply of Russian gas to Ukraine," Miller said.
Read alsoUkraine's pro-Russian voters may help Kremlin reclaim influence – Bloomberg
The CEO noted that "there are no signals" coming from the newly elected Ukrainian President, Volodymyr Zelensky.
During the meeting, Medvedchuk stressed that, after their last visit to Russia, there had been a "violent and negative reaction" on the part of Ukraine's government. However, this doesn't bother them, he added.
As UNIAN reported earlier, Russian Prime Minister Dmitry Medvedev and Gazprom CEO Alexei Miller met with Boyko and Medvedchuk in Medvedev's residence outside Moscow on March 22.
The politicians reportedly discussed issues of cooperation in the gas sector. Boyko said he was ready to offer the Russian Federation options for extending the transit gas contract, since the current government of Ukraine "is not proactive" in resolving the issue.
Former Ukrainian President Petro Poroshenko condemned Boyko and Medvedchuk's visit to Moscow. On March 27, the Cabinet of Ministers of Ukraine instructed to clarify the situation regarding the violation of border crossing by the two politicians.
As was earlier reported, Boyko and Medvedchuk top the list of the former "regionals" (members of a pro-Russian Party of Regions) who intend to participate in the snap elections to the Verkhovna Rada, Ukraine's parliament, as part of the "Opposition Platform - For Life" Party.