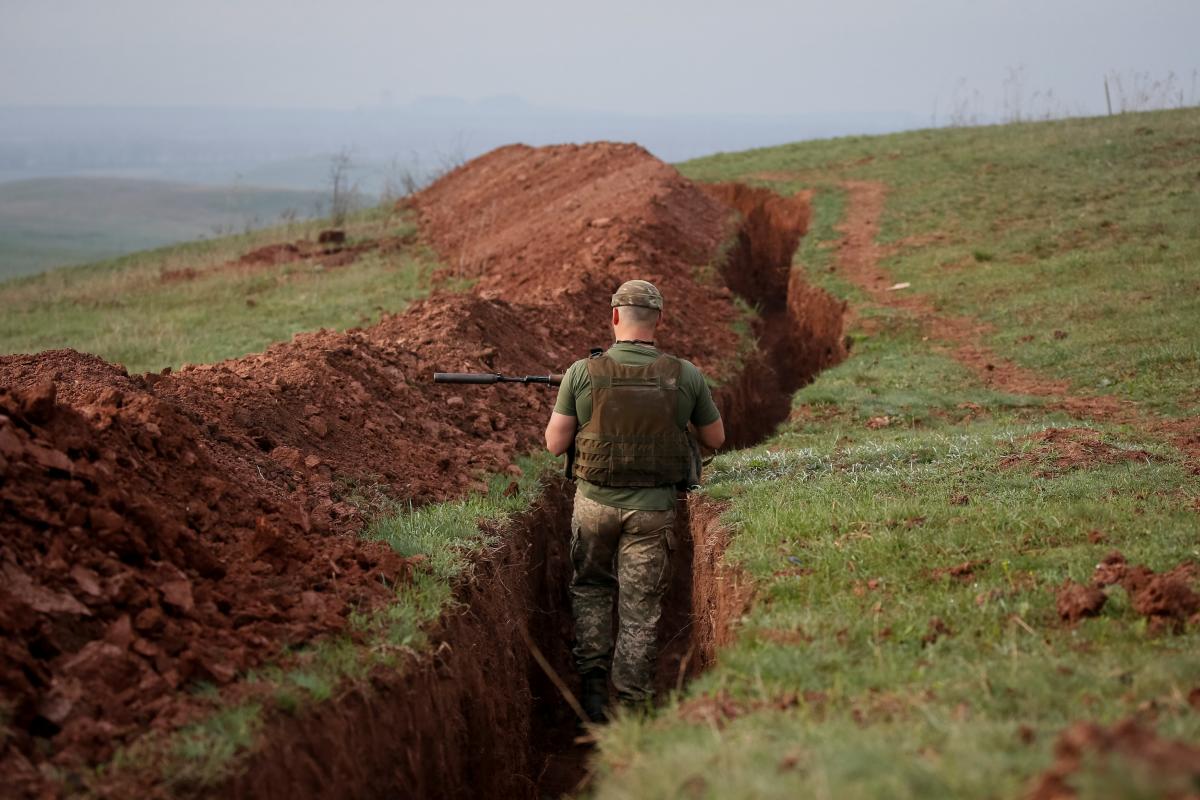 REUTERS
Talks to end Donbas war have begun as Ukraine is taking a risky first step. The ceasefire has been declared more than twenty times since the artillery started shooting in Donbas in 2014. Before the harvest period, they would normally declare the "bread" truce, and before Sept 1 – "school" truce. There were also several ceasefire announcements for Easter and Christmas.
None of them was observed and often, missiles would be launched right on the day of the relevant truce announcement. Every morning, Ukrainian media report on the situation at the front line. Four Ukrainian soldiers have been killed since this week-start, Rzeczpospolita reports.
The next attempt to introduce ceasefire will be taken on June 19 during the Minsk meeting of the Trilateral Contact Group on Donbas settlement. Talks began on Wednesday thanks to former Ukrainian president Leonid Kuchma, who now represents Kyiv in Minsk. Kuchma, 80, has proposed a road map as a recipe for getting out of the impasse.
He went to the Belarusian capital of Kuchma with an unexpected proposal. It is about removing the trade blockade Kyiv had imposed on the self-proclaimed "Donetsk and Luhansk republics." This topic is to be discussed at the next TCG meeting.
Read alsoUkraine's envoy at Minsk talks proposes lifting economic blockade from Donbas
Alongside Kuchma, Minsk negotiators include representatives of the "Donbas republics", Russian envoy Boris Gryzlov (longtime Duma chairman in the past), and OSCE envoy Martin Sajdik. The latter, quoted by the Ukrainian media, stated that the lifting of the blockade would be a "big breakthrough".
One can only guess what Ukraine would get in return.
Before the meeting in Minsk, a lot was said in Kyiv about the release of over 100 Ukrainian prisoners of war held in Donetsk and Luhansk. The release was also discussed of Ukrainian seamen who had been held in Russian custody for months after their unsuccessful attempt to cross the Kerch Strait.
"Holding out his hand, the new President of Ukraine, Volodymyr Zelensky, risks not getting anything in return. Besides, during his inauguration he declared that he was ready to 'risk his position,' just to end the war in Donbass," Rzeczpospolita writes.
Read alsoZelensky's adviser: Pinchuk helps to persuade Kuchma to re-join Minsk talks
The decision to break trade relations with the self-proclaimed "Donetsk and Luhansk republics" was taken when Russian militants "nationalized" enterprises in the area and took over Ukraine's property, also making the Russian ruble the only obligatory currency in Donetsk and Luhansk. Interestingly, the blockade was introduced only after three years of war and after numerous protests by civil activists on the front line, who would block, among others, outbound freight trains carrying coal.
"Once the blockade is lifted, trains and trucks would once again start going both ways. The problem is that in the light of Ukrainian law, the leaders of these pseudorepublics are terrorists. Therefore there is a total ban on any economic cooperation with them. Besides, how can you trade with people with whom the war is being waged?" Mykhailo Pashkov, an expert on international policy at Razumkov Center in Kyiv, told Rzeczpospolita.
Read alsoU.S. envoy: It's provocative step for Russia to issue passports to citizens of another country
"It interferes with a whole range of laws passed by Parliament in recent years. Leonid Kuchma is a wise and experienced politician. I hope he knows what and why he is doing," he adds.
The publication recalls that Russia has been handing out its passports to the inhabitants of Donbas for over a month already, and has not yet congratulated President Zelensky on winning the election. On the other hand, it stopped exporting fuel to Ukraine and suggests that it will soon sever cooperation with Kyiv on gas transit. Head of the Russian diplomacy Sergei Lavrov said on Thursday that he "sees no reason" for Putin's meeting with Zelensky. "Russia first twists [its opponent's hands and only then does it sit at the table," says Pashkov.