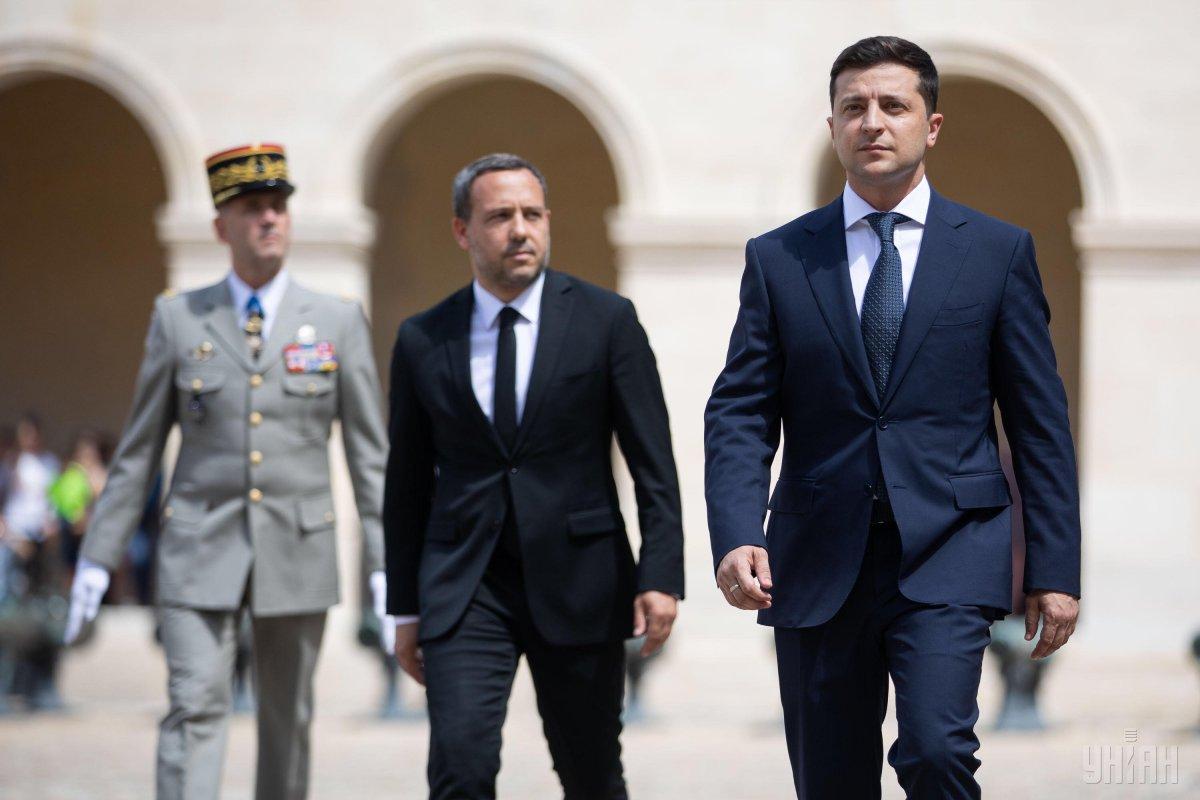 Photo from UNIAN
President of Ukraine Volodymyr Zelensky during his France visit emphasized that one of his key tasks in office was restoring peace in Ukraine.
The issue of settlement in eastern Ukraine was on top agenda of the president's talks: "First of all, it was about bringing peace back to Ukraine. This is my priority. This is my position - both as a person and as President. This is something I fall asleep and wake up with every day," Volodymyr Zelensky said during a joint press conference with his French counterpart Emmanuel Macron, an UNIAN correspondent reports.
"I am convinced that Europe won't be able to feel fully safe as long as Russia pretends that international law simply doesn't exist. Both France and the rest of our international partners know and understand what makes every Ukrainian hurt. Nobody wants Ukraine to become a gunpowder barrel, where Crimea and Donbas are a detonating cord," he added.
Read alsoPutin sticks to wait-and-see approach toward Zelensky – spox
"Along with the people of Ukraine, I cannot wait for another five years, we want to end the war, but in order to end the war, both sides, both Russia and Ukraine, must seek to end the war, not only Ukraine," said Zelensky.
"We really want to be heard, to return to the normal Minsk agreements, to do this all and to end the war so that our guys return home alive. I can't hear every day, like any Ukrainian, that someone is gone," the president added.
The head of state said that during his meeting with the president of France, agreements had been reached on the next steps that should contribute to this goal.
"We agreed on the importance of updating cooperation within the Normandy format. Our foreign policy advisers will meet in the near future and prepare the next meeting of the leaders. This is a key issue," the president said.
As for the conflict in Donbas and the settlement of the situation, Emmanuel Macron supported the position of Volodymyr Zelensky as regards "restoring peace, forcing the guns to go silent and embarking on the path of negotiations."
"We again want to embark on the path of the Minsk format for Ukraine to get back to peace. I assure that I am ready to support you, Mr. President, in this intention and also in the dialogue with Russia," the president of France stressed.
"When the moment comes, France is ready to hold a meeting in the Normandy format in order to support the fulfillment of the obligations. But before that we need to have certain gestures, steps in the near future that would confirm the intention to comply with these obligations [Minsk agreements]," Emmanuel Macron added.