Gontareva invites Yushchenko and Stelmakh to advise on hryvnia crisis
Governor of the National Bank of Ukraine (NBU) Valeria Gontareva has held a meeting with former central bank governors Stepan Kubov, Viktor Yushchenko, Volodymyr Stelmakh, and the ex-deputy chairman of the NBU in the early 1990s, Borys Markov, to assess the current measures of the central bank in tackling the currency crisis.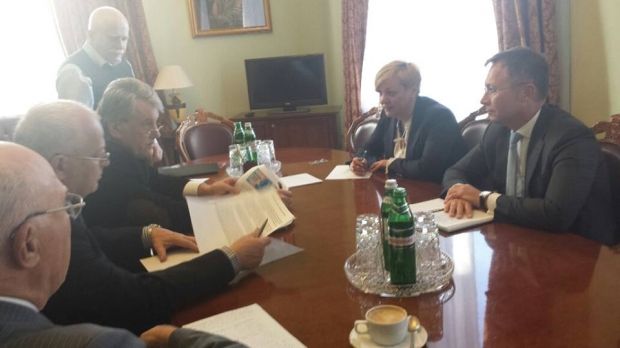 Photo from the NBU's Facebook page
The main topic of the meeting was the financial stability of the country, according to a posting on the page of the National Bank of Ukraine on Facebook.
"It is expected that the joint meeting will result in a plan for the stabilization of the banking system and the experts' active involvement in the anti-crisis program of the NBU.
"I discussed with the former governors the budgetary situation in the country, ways for the legalization of the shadow economy, and the possibility of resuming lending," Gontareva said.
"NBU analysts will help conduct research to assess the impact of the war on the country's economy and its banking system," the governor said in a statement.
If you see a spelling error on our site, select it and press Ctrl+Enter