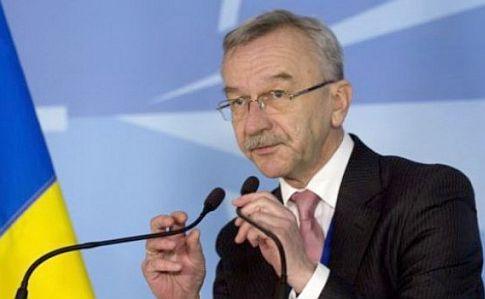 tabula.ge
Ambassador of Ukraine to Georgia Ihor Dolhov has left the venue in protest over the speech of President of the Interparliamentary Assembly on Orthodoxy, Russian Deputy Sergei Gavrilov.
That is according to Ukraine's Public Diplomacy by MFA's post on Facebook.
"I will comment only on [Ukrainians'] will of the Orthodox Church of Ukraine [OCU]. All Ukrainians want to have their own church. And what we are aware of, and what we have received is Moscow's rigid resistance," the diplomat said.
Read alsoFilaret's efforts to restore Kyiv Patriarchate "irreversible aging symptoms": OCU cleric
When asked how he would perceive the fact that Russia's representative chairs the Interparliamentary Assembly of Orthodoxy, the Ukrainian ambassador noted that this decision depends on the organization's members.
"Russia has occupied the territory of Ukraine and continues to wage a war now. Today we have one soldier killed and four wounded. This is what Russia is to us," he said.
"Christian religion and church are in favor of a peaceful existence, and they reject the occupation of territories. That's all. I have no more comments," he added.
The 26th Annual General Assembly of the Interparliamentary Assembly on Orthodoxy is taking place in Georgia on June 19-22. About 100 delegates from 25 countries have already visited the event.