Ukrainian government officials arrested for corruption at cabinet meeting, live on TV
In a scene that would have been unthinkable before last year's mass public uprising against the government in Ukraine, police marched into a cabinet meeting on Wednesday and arrested two government members on charges of corruption, with the incident being aired live on television.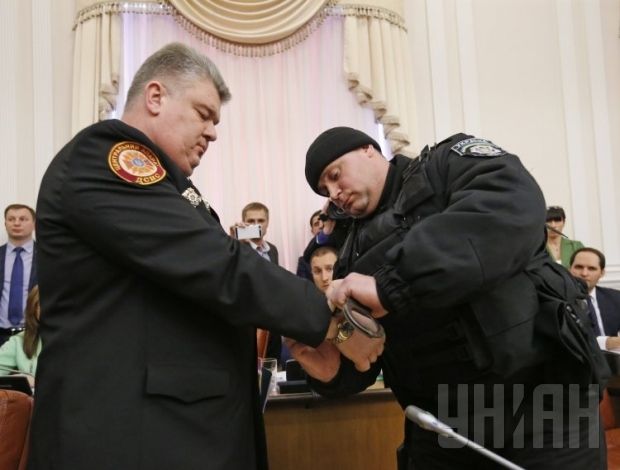 UNIAN
Head of the State Service for Emergency Situations Sergiy Bochkovsky and his first deputy Vasyl Stoietsky were detained for corruption involving public procurement procedures, Interior Minister Arsen Avakov said at the meeting.
"Using a simple scheme, state procurement was carried out through a private company," Avakov said.
"The private company was transferring money to a non-resident of Ukraine – an offshore company on the island of Jersey, and from there - to another private company owned by Bochkovsky and Stoietsky, after which the funds were transferred to card accounts they had opened in banks, including in Cyprus," Avakov said after the detention of the officials.
According to the Interior Ministry's press office, Bochkovsky and Stoietsky are charged with organizing criminal schemes of fuel purchases from private companies at inflated prices. The officials were detained under Article 208 of the Code of Criminal Procedure of Ukraine.
Avakov then asked the Ukrainian government to take a decision regarding dismissal of Bochkovsky and Stoietsky, and of all the leadership of the State Service for Emergency Situations in all regions of the country.
An advisor to the Interior Minister, Zorian Shkiriak, has been appointed as acting chairman of the State Service for Emergency Situations.
VIDEO of the arrests from Ukraine Today
If you see a spelling error on our site, select it and press Ctrl+Enter